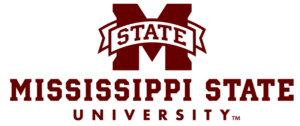 Mississippi State University Degree Programs
Mississippi State University appears in our ranking of the 20 Best Online Schools for Doctorate Degrees.
Mississippi State University (MSU) is a public educational institution that supports the education of over 22,000 students in 160 pathways toward an undergraduate degree. MSU is the only school in Mississippi that offers the prestigious National Sea Grant College Program and the National Space Grant College and Fellowship Program. The school is designated as an "R1: Doctoral Universities – Very High Research Activity" school which identifies it as a principal educational institution that offers its students a quality education. The flagship campus at Starkville, MS, is augmented by campuses in Vicksburg, Biloxi, and Meridian. Students enjoy a competitive atmosphere with plenty of opportunities to learn and have fun. There are over 300 student organizations on campus that students can join. Students also can select from18 fraternities or 11 sororities to develop added relationships that endure through university years and well into the future.
To streamline the university experience for students, the institution is organized into 12 schools or colleges. Those divisions include:
College of Agriculture and Life Sciences
School of Human Sciences
College of Architecture Art and Design
College of Business
College of Arts and Sciences
Richard C. Adkerson School of Accountancy
College of Education
James Worth Bagley College of Engineering
Dave C. Swalm College of Chemical Engineering
Shackouls Honor College
College of Forest Resources
College of Veterinary Medicine
The prestigious honors program at MSU is among the finest in the country. Offered at the undergraduate level, entry into the program is limited to those students who excel in their studies. There are several factors considered when a student applies for entry into the program, none of which are more crucial than the others. Some of those essential factors include:
High school GPA—current students average at 3.8 or above
High school class ranking—standard ranking is in the top ten percent of the class
Standardized test scores—those students who receive an ACT score of 30 or above receive further consideration
A sterling record of academic and extracurricular involvement throughout their high school year
Students accepted in the honors program are expected to maintain a minimum GPA of 3.4 and take a three-credit-hour honors course at least once per year. Those who receive the honors badge on their degree have demonstrated to every employer their work ethic and ability to think critically while working on complex issues.
MSU offers one of the largest catalogs of undergraduate degrees in the country. Students looking to advance in the fields of agriculture, biology, nutrition, culinary arts, landscape architecture, horticulture, fashion, human development, art, economics, veterinary medicine, foreign languages, philosophy, history, education, and sociology, to name a few, will find their preferred niche at MSU.
MSU recognizes the necessity of an inclusive online degree program. Some students work or have family issues that require them to maintain a home presence while attending classes. The school maintains an online presence at every degree level with a major effort for those who are attempting to improve their knowledge in their chosen field of work. Of its 160 undergraduate degrees, MSU offers its most popular programs online, including:
Bachelor of Applied Science
Bachelor of Arts in History
Bachelor of Business Administration
Bachelor of Science in Elementary Education with Concentrations in Early Childhood or Middle School
Bachelor of Science in Geosciences with Concentration Broadcast & Operational Meteorology
Bachelor of Science in Industrial Technology
Bachelor of Science in Interdisciplinary Studies
Bachelor of Science in Psychology
At the masters level, MSU offers 93-degree opportunities in multiple fields of study such as business, agriculture, aerospace engineering, anthropology, veterinary medicine, physics, psychology, automotive engineering, biology, chemistry, education, leadership, information technology, engineering, English, exercise physiology, fashion, nutrition, forestry, geosciences, health, history, horticulture, mathematics, political science, psychology, sports science, and aquaculture. Of the master-level degrees offered at MSU, the school supports 27 entirely online.
MSU continues its excellence in graduate-level opportunities with its doctoral-level programs. In full, the school offers 85 doctoral degree pathways. The majority of the degrees require students to spend their time in traditional classrooms to pursue the culmination of their education in areas of study like agriculture, veterinary science, technology, forestry, sociology, psychology, education, public policy, agriculture, physics, nutrition biology, engineering, mathematics, business, life sciences, horticulture, human development, history, economics, nutrition, education, information sciences, meteorology, chemistry, and biology. Of the immense number of doctoral opportunities at MSU, seven are offered entirely online, including:
Doctor of Philosophy in Community College Leadership
Doctor of Philosophy in Computational Engineering
Doctor of Philosophy in Electrical & Computer Engineering
Doctor of Philosophy in Engineering with a Concentration in Aerospace Engineering
Doctor of Philosophy in Engineering with a Concentration in Civil Engineering
Doctor of Philosophy in Engineering with a Concentration in Mechanical Engineering
Doctor of Philosophy in Industrial & Systems Engineering
Every doctoral program at MSU requires a minimum of 60 credit hours of study with a publishable thesis at the end. Successful graduates defend their thesis before a panel of experts and are expected to advance new concepts in their field of study.
For those students who seek to specialize in specific fields while pursuing a general primary degree, MSU offers a gamut of certification and specialist programs in multiple areas. As an example of the diverse fields in which MSU offers certifications, there are six provided entirely online.
Aeronautical Meteorology Forecaster Certificate
Broadcast and Operational Meteorology Certificate
Clinical Health Promotion & Wellness Coaching Certificate
General Biology Certificate
Veterans Certificate Program
Vision Specialist and Vocational Rehabilitation Specialist
For those who have finished their graduate-level degrees and still feel the need to sharpen their skills, MSU offers 21 post-graduate certification and specialist programs. These programs require an extra 15 credit hours of study after completion of the 36 credit-hours necessary to complete the masters-level program. At MSU, most of these programs are in the realm of education, such as:
Educational Specialist in Instructional Systems and Workforce Development
Educational Specialist in Curriculum Instruction, and Special Education
Educational Specialist in Counseling and Educational Psychology
Educational Specialist in Leadership and Foundations
About Mississippi State University
MSU was chartered as the Mississippi Mechanical & Agricultural College in 1878 and opened its doors to its first students in 1880. While maintaining its original mission of providing an education in the fields of agriculture, horticulture, and mechanical arts, the school expanded its curriculum to include an immense array of subjects. The university was originally only available to white students but was desegregated in 1954 when it accepted its first black student. Today, students of all races gain a superior education at MSU with many moving on to higher educational opportunities like Rhodes Scholarships and other international academic opportunities. The university is highly regarded amongst organizations that rank colleges.
Niche.com rates MSU as 19th  in its list of the Best Colleges for Agricultural Sciences in America, 54th in Best College Athletics, and 60th in the Best Colleges in America. US News & World Report ranks MSU as 101st in its list of Top Public Schools, 108th in Best Undergraduate Engineering Programs, 211th in National Universities, and 335th in Top Performers on Social Mobility.
Mississippi State University Accreditation Details
MSU is regionally accredited through the Southern Association of Colleges and Schools, Commission on Colleges to award certifications, bachelor's, master's and doctoral degrees. Specialized accreditations for individual departments include:
Accreditation Council for Education in Nutrition and Dietetics (ACEND)
American Psychological Association (APA)
American Veterinary Medical Association (AVMA)
National Association of Schools of Art and Design (NASAD)
National Association of Schools of Music (NASM)
National Council for Accreditation of Teacher Education (NCATE)
Council for Accreditation of Counseling and Related Educational Programs (CACREP)
Society of American Foresters (SAF)
American Association of Family and Consumer Sciences (AAFCS)
Network of Schools of Public Policy, Affairs, and Administration (NSPPAA)
Council for Interior Design Accreditation (CIDA)
Accreditation Board of Engineering and Technology (ABET)
The Association to Advance Collegiate Schools of Business (AACSB)
American Society of Landscape Architects (ASLA)
Mississippi State University Application Requirements
Applying to MSU for admittance as an undergraduate student requires a $40.00 non-refundable application fee. Each student must have graduated from a recognized secondary educational institution and submit their ACT or ACT scores to the university. The applicant must also submit an official high school transcript that reflects the satisfactory completion of:
Four units of English
Three units of mathematics including algebra I and higher courses
Three units of science including biology I and higher
Three units of social sciences, including U.S. or world history
One unit of art
Two units of advanced electives
One unit of technological studies
To apply for a graduate program at CUC, the applicant must present their baccalaureate degree, their official transcripts from every post-secondary school they attended, three reference letters, and a declaration of purpose. Each graduate-level applicant must submit test scores from comprehension programs such as GRE, GMAT, TOEFL, or IELTS depending on the requirements of the department to which they are applying.
Tuition and Financial Aid
Tuition at MSU varies greatly between those students who are residents of Mississippi and those who are out-of-state residents. In-state residents pay $8,910.00 in tuition and fees per year, while out-of-state students pay $23,950.00. Students who reside on campus pay another $10,435 in room and board. Graduate students that are residents of Mississippi and are taking a full load of nine-credit hours pay $4,455.00 per term in tuition and fees while out-of-state students pay $11,975.00.
In-state students enjoy the advantages that Mississippi offers to all its students. All Mississippi residents are eligible to apply for state scholarship programs as well as need-based grants. While out-of-state students do not qualify for Mississippi's student assistance programs, the school accepts all scholarship and assistance programs from other states. Since MSU is accredited, students can apply for the Federal Student Loan Programs to help with their educational expenses.
MSU offers students an immense array of educational opportunities. The curriculum at the school is recognized throughout the country as one of the most varied available anywhere. Students who graduate from Mississippi State University enjoy the accumulated reputation that the school has developed over the years as a quality educational institution.