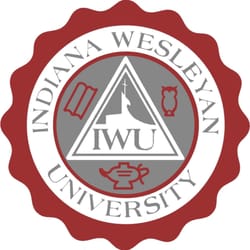 Indiana Wesleyan University Degree Programs
Indiana Wesleyan University appears in our ranking of the 20 Best Online Schools for Marketing.
Earning a college degree is an excellent way to move ahead in your current career or move into a new position in a different career. Many positions require only an undergraduate degree while others require a master's or doctorate degree. Indiana Wesleyan University offers several degree programs designed to help individuals improve their employment status.
Indiana Wesleyan University offers programs with flexible formats that are designed for non-traditional students. All programs at the University are offered with a Christ-centered focus. The University has six principal academic units which include:
College of Adult and Professional Studies
College of Arts and Sciences
Graduate School
School of Health Sciences
School of Nursing
Wesley Seminary
Through the College of Adult and Professional Studies, students may choose the Bachelor of Science in Mathematics which prepares them for further study at the graduate level as well as for careers in a wide range of industries. The program integrates faith with learning, integrity, critical thinking, discipline, communication and technology. The program is more rigorous than the Math Education program and includes a research requirement. Courses required may include Differential Equations, Calculus I, II & III, Linear Algebra, Advanced Algebra, Point Set Topology, and Complex Variables. The program is available both on campus and online.
The College of Arts and Sciences offers a Bachelor of Science in Chemistry that provides an understanding of math and physics. Students are prepared for careers in industry, education, science, and government. They develop the skills necessary to solve complex problems and to think critically. Courses required include Organic Chemistry, Analytical Chemistry, University Physics I & II, Differential Equations and Principles of Biology. The program is available only on campus.
The Master of Business Administration with a concentration in Personal Financial Planning through the Graduate School is designed for those who wish to address complex business problems and opportunities in the finance industry. Students learn to evaluate personal management capabilities and design a plan for continual growth. They are able to integrate critical analysis with financial planning disciplines while also synthesizing ethical standards in decision-making and strategy development. Courses required include Risk Management, Investment Planning, Income Tax Planning as well as Estate Planning and Wealth Transfer.
About Indiana Wesleyan University
The Indiana Conference of the Wesleyan United Methodist Church purchased the Marion Normal Institute in 1919 in order to establish a college in the area. The property came available when the Normal School moved to Muncie and merged with the Indiana Normal Institute. Because the Conference already had a successful school, the Fairmount Bible School, they easily raised the 100,000 endowment necessary to open the new college. The Fairmount Bible School moved to Marion and a new teacher education program created there to form Marion College.
For the next 68 years, the school operated as a liberal arts college with degree programs added in 1979. Weekend and night classes were offered in 1983 to address the needs of working adults and other non-traditional students. The new program was so successful, it eliminated the college's debt and allowed for the expansion of the Marion campus. The school became Indiana Wesleyan University in 1988.
A large percentage of the funding at the University comes from the College of Adult Professional Studies as that is the school with the highest enrollment. More than 14,000 students are enrolled at the University which offers programs steeped in a Christ-centered tradition, creating graduates who are focused on changing the world.
Indiana Wesleyan University Accreditation Details
Indiana Wesleyan University is regionally accredited by the Higher Learning Commission. Accreditation provides the prestige of national recognition and assures students that they are receiving a quality education. Periodically, the University undergoes peer-reviews to confirm that they continue to offer the highest quality education and any areas that are identified as needing improvement are addressed immediately. In addition to regional accreditation, university programs are accredited by the following organizations:
Accreditation Council for Occupational Therapy
American Music Therapy Association
Association of Theological Schools
Commission on Accreditation for Marriage and Family Therapy Education
Commission on Accreditation of Athletic Training Education
Commission on Collegiate Nursing Education
Council for Accreditation of Counseling and Related Educational Programs
Council for the Accreditation of Educator Preparation
Council on Education for Public Health
Council on Social Work Education
National Addiction Studies Accreditation Commission
National Association of Schools of Music
Indiana Wesleyan University Application Requirements
Applicants who have not earned college credit after high school graduation must provide official high school transcripts. All applicants, including those attending online, must contact an admissions counselor to discuss other requirements for admission.
Transfer applicants submit official transcripts from all colleges and universities attended. There may also be supplemental documents required depending on the program the student plans to enter. All applicants must contact an admissions counselor to discuss any other requirements for their specific program.
Applicants for the Master of Business Administration with a concentration in Personal Financial Planning must hold a bachelor's degree or higher from an accredited college or university. They must submit official transcripts from all schools attended and must have an undergraduate GPA of 2.5 or higher from the school issuing their degree. They must also contact an admissions counselor prior to enrolling.
Indiana Wesleyan University Tuition and Financial Aid
Tuition for the Bachelor of Science in Mathematics is $580 per credit hour on campus and $372 per credit hour online. The Bachelor of Science in Chemistry is only available on campus. Full-time tuition is $27,296 per year. Tuition for the Master of Business Administration with a concentration in Personal Financial Planning is $559 per credit hour.
Financial aid is available with 100 percent of students applying receiving some type of assistance. Each year, around $31 million in scholarships, grants, and other awards are provided to assist students with tuition. Students may also be offered loans, work-study, assistantships or fellowships. Students must complete the Free Application for Federal Student Aid (FAFSA) in order to qualify for any financial aid. The form must be submitted each year and all students are encouraged to complete the form as some aid is merit-based.
Indiana Wesleyan University offers many degree programs that are available in a totally online format, allowing adult learners who have work, family and social obligations to achieve their higher education goals, allowing them to move into a new career or advance in a current career.