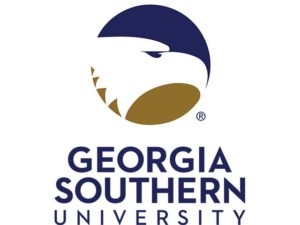 Degrees Offered at Georgia Southern University
Georgia Southern University appears in our ranking of the 20 Best Online Schools for Early Childhood Education.
Georgia Southern University is a public research institution located in Statesboro, Ga. It's the flagship school in the GSU system, which includes satellite campuses in Hinesville and Savannah. GSU offers traditional and online classes as well as a dual-credit program for high school and college classes. Degree programs at GSU are organized into the following academic colleges:
Allen E. Paulson College of Engineering and Computing
College of Arts and Humanities
College of Behavioral and Social Sciences
College of Education
College of Science and Mathematics
Jack N. Averitt College of Graduate Studies
Jiann-Ping Hsu College of Public Health
Parker College of Business
Waters College of Health Professions
From anthropology, chemistry and computer science to theater and creative writing, the degree programs available at GSU are valuable in today's competitive economy. Undergraduate nursing students have the option of taking a standard or accelerated Bachelor of Science in Nursing program. Depending on the choice of degree track, this program can take three to four years of full-time enrollment to complete. The nursing program at GSU is ranked in the top 100 in the country. Students in this program can expect rigorous experiential training with experts in the field of nursing.
The College of Health Professions offers a master's program in health administration. The M.H.A. is a two-year program designed for health administration professionals looking for a career boost and an increase in earning potential. Students can complete the program on schedule while continuing to work full-time at their jobs. At the end of the program, students will assess their own progress and accomplishments using the concepts learned throughout their studies. Program preceptors will also assess students' progress and readiness for real-world situations in health administration.
The dual enrollment program is available for high school juniors and seniors. Students who are at least 16 years old can apply for enrollment in core courses while still in high school. The program is accessible to anyone who meets the age and grade level requirements while maintaining a grade point average of 3.0 or higher on a 4.0 scale. Applicants for the dual-credit program must be scheduled to complete the required high school curriculum for the state of Georgia, including the minimum number of English, history, science and math credit-hours. A minimum score of 1050 on the SAT exam or 20 on the ACT exam is required for dual-credit enrollment.
GSU offers a wide range of degrees that can be completed entirely online. The College of Education offers the largest number of online options with 30 graduate degree and non-degree programs. These options include 12 master's programs and six education specialist programs. The Ed.S. degree is a terminal, doctoral option that prepares students for senior-level careers in education administration in K-12 schools. The College of Education also offers 12 non-degree certificate options, including the Certificate in Educational Leadership, Certificate in Instructional Technology, Certificate in Applied Research and Evaluation and Certificate in Curriculum and Pedagogy for Social Justice.
About Georgia Southern University
GSU is a public Carnegie doctoral R2 institution with a student body of over 26,000 people from all over the country. It's the largest university south of Atlanta in the state of Georgia. GSU was founded in 1906 with a commitment to experiential learning and rigorous academic standards. A total of 141 degree programs are available for students at GSU. While most bachelor's programs have residency requirements, GSU is able to offer a large selection of accredited online master's and doctoral degrees. GSU was ranked the best university for military students in 2019 by Best for Vets Colleges.
Georgia Southern University Accreditation Details
All programs at GSU are accredited by the Southern Association of Colleges and Schools Commission on Colleges (SACSCC), a regional accrediting body approved by the U.S. Department of Education to accredit schools throughout the South. Many programs at GSU are also accredited at the individual level by agencies such as:
Accreditation Council for Education in Nutrition and Dietetics
American Psychological Association
Commission on Collegiate Nursing Education
Council on Education for Public Health
National Association of Schools of Art and Design
National Council for Accreditation of Teacher Education
Programmatic accreditation ensures that students enrolled in professional or vocational programs receive an education consistent with current standards in the field of their discipline. Credits earned at GSU can be transferred to any school in the country. Institutions throughout the world recognize the accredited degrees and certificates awarded by GSU.
Georgia Southern University Application Requirements
Admissions to GSU are selective, and the acceptance rate is about 68 percent. Applicants must begin the process by filling out an online application and submitting the required documents. These documents include high school or college transcripts, letters of recommendation and a written essay. The state of Georgia requires that all matriculating students complete the core high school curriculum before enrolling in any state college. This curriculum consists of four years of English, four years of history, three years of natural science and three upper-level math courses. Student applications for enrollment at GSU are evaluated by the following criteria:
Grade point average
SAT or ACT test scores
Class ranking
Extracurricular activities
Professional experience
Extenuating circumstances
Students who don't meet the minimum admissions requirements can file an appeal for enrollment on a probationary basis. The deadline for spring enrollment is December 1 while the deadline for fall enrollment is April 1.
Tuition and Financial Aid
The cost of tuition for Georgia residents is around $6,356 per year while the cost for out-of-state students is around $17,142 per year. The cost of books and living expenses depends on the degree program and the location of the student. Living expenses in Georgia are lower than average for U.S. states, so students can expect to pay a total of around $17,000 per year for tuition, books and living expenses. The Free Application for Federal Student Aid (FAFSA) program offers free Pell Grants and low-interest loans to students with financial need.
Georgia Southern University is the ideal choice for traditional students and busy professionals looking for a challenging and rewarding education.