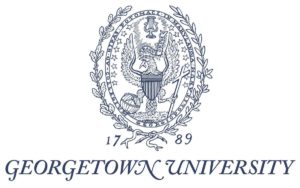 Prestigious, Private Jesuit Education at Georgetown
Georgetown University appears in our ranking of the 20 Best Online Schools for Finance.
Ranked 24th nationally by the U.S. News & World Report, Georgetown University is a nonprofit, research-based Catholic NAICU member in Washington DC that offers 52 bachelor's, 102 master's, and 27 doctoral degrees, including 48 online, plus the College Exposure Dual Enrollment Program with an 11:1 student-faculty ratio. For example, the Environmental Biology B.S. builds a 120-credit, four-year curriculum where undergrads can research at the Reiss Science Center, become Zukowski-Kolleng Fellows, pledge Sigma Xi, and travel to Costa Rica. Chaired by Dr. Ricardo Ortiz, an Alan Bray Book Prize winner, the 120-credit English A.B. encourages majors to write for The Hoya, exchange to Oxford, join the Poetry Society of America, and intern with the Maryland State Archives.
Online on Canvas since Fall 2019, the McDonough School of Business has delivered a 32-credit, AACSB-accredited Finance M.S. with 21 months of seven-week online courses from Corporate Valuation to Big Data before the global consulting project for an average $124,119 graduate salary. Directed by Dr. Judith Perez-Caro, the Juris Doctor J.D. follows a 109-credit, ABA-approved path to 95 percent Bar Exam passage with Civil Litigation Clinic practice, Supreme Court Institute research, Capitol Hill externships, and Phi Alpha Delta membership.
Other Georgetown degrees include the Anthropology A.B., Computer Science B.S., Global Medieval Studies A.B., Political Economy A.B., Addiction Policy M.S., Economics M.S., Italian Studies M.A., Pharmacology Ph.D., Physics Ph.D., and Linguistics Ph.D.
About Georgetown University
Georgetown University originated on November 13, 1786, when Bishop of Baltimore John Carroll held a meeting at Sacred Heart Church to plan a local Jesuit college. In 1789, Carroll partnered with Robert Molyneux and John Ashton to buy a campus for 75 pounds. In 1792, an inaugural class of 69 students arrived at Georgetown's Old North. In 1802, the Georgetown Visitation Preparatory School was added. On March 1, 1815, the 13th Congress passed the first federal charter for Georgetown University. In 1817, Charles and George Dinnies earned the earliest Bachelor of Arts degrees. In 1844, Georgetown's Observatory first calculated the latitude and longitude for DC. In 1852, GU founded the Mask and Bauble Dramatic Society. In 1874, Georgetown's Patrick Francis Healy became the first African-American president of a non-HBCU. In 1919, Edmund A. Walsh opened its lauded School of Foreign Service. By 1966, Georgetown College was organized for undergrad studies.
Budgeting $1.12 billion yearly, Georgetown University now has 2,753 faculty training 7,459 undergrad and 11,745 post-grad Hoyas from 50 states plus 135 nations on its 104-acre Hilltop campus, abroad in Qatar, or fully online with 390+ student organizations like Classics Club. In 2019, GU won the Big East President's Award of Excellence. In 2020, Georgetown received a CASE District II Circle of Excellence Award. Georgetown University earned the 2018 AACN Beacon Award for Excellence too. Forbes named GU the 14th top private institution and 57th best value. On Niche, GU features America's ninth-best business school and fourth top political science program. Washington Monthly picked Georgetown ninth for social mobility. The Center for World University Rankings chose GU 59th for alumni employment outcomes. WalletHub applauded Georgetown University for the 55th best student experience.
Georgetown University Accreditation Details
On June 28, 2012, the Middle States Commission on Higher Education (MSCHE) Board of Trustees voted favorably to reaffirm the Level VI status at Georgetown University through the next 2021-22 evaluation visit under Provost Robert M. Groves, Ph.D., an American Academy of Arts and Sciences Fellow. Located 159 miles northeast via Route 1 in Philly, this esteemed eight-territory East Coast Region accreditor is recognized by the U.S. Department of Education. The Office of Governance also lists the following program-specific approvals:
Association to Advance Collegiate Schools of Business
Commission on English Language Program Accreditation
American Bar Association
Council on Accreditation of Nurse Anesthesia Educational Programs
Liaison Committee on Medical Education
Commission on Collegiate Nursing Education
Accreditation Commission for Midwifery Education
Commission on Accreditation of Healthcare Management Education
Association for Clinical Pastoral Education
Georgetown University Application Requirements
Getting into Georgetown University is classified "most selective" by the U.S. News & World Report since only 14 percent of the 22,788 Fall 2019 applicants were triumphant. First-year Hoyas must finish a qualifying college-prep curriculum with four units of English and math. Only the College Exposure Program allows high school seniors. The Class of 2023 reported a mean GPA of 4.03. The middle 50th percentile had ACT scores of 30-34. Mid-range admitted SAT scores were 1370-1530. Honors programs mandate a minimum 3.50 overall GPA. Transfers should have 12+ non-remedial, accredited credits with cumulative GPAs above 3.0. International learners need at least 100 TOEFL iBT, 7.0 IELTS, or 115 Duolingo scores. The Graduate School seeks a cumulative B or better average in four-year bachelor's preparation. Certain programs, such as the Physiology M.S., require 3.3 or greater GPAs. Median GRE scores are 157 quantitative and 162 verbal. The McDonough School of Business accepts a GMAT range of 640-730. Juris Doctor cohorts present a mean 167 LSAT score.
Georgetown University set a November 1st Early Action and January 10th Regular Decision deadline for freshmen. Hopeful transfers must file before March 1st. Graduate programs have varying dates though. For instance, the Bioinformatics M.S. admits until November 1st and May 15th. The Latin American Studies M.A. closes on April 1st. The Cell Biology Ph.D. admits Summer cohorts through December 1st. Philosophy Ph.D. entrants must apply by December 15th. Prospective Hoyas submit the GU Application online for $75 ($90 if graduate). Mail official academic records to White Gravenor Hall Room 103 at 37th and O Streets NW in Washington DC, 20057. Send test scores using SAT/GRE code 5244 or ACT code 0668. Contact (202) 687-5568 or gradmail@georgetown.edu to learn supplemental program steps.
Tuition and Financial Aid
For 2019-20, Georgetown University charged full-time undergrads $27,720 per semester or $55,440 annually. Part-time students paid $2,310 per bachelor's credit. Student health insurance was $2,895 by year. Residing at "The Hilltop" dorms like Darnall Hall added $4,938 to $6,035 for semester housing. Hoya Hospitality meal plans were $3,107 extra. GU budgeted $1,200 for books and $2,556 for miscellaneous. Annual on-campus undergrad attendance equaled $76,280. The School of Continuing Studies billed $984 per credit. Graduate programs had base tuition of $2,139 per credit. Biomedical Graduate Education cost $25,400 by term. Political Economy M.A. cohorts paid $1,667 per credit. The Juris Doctor J.D. was priced $32,274 each semester. The medical school required $26,799 every term.
The National Center for Education Statistics reports that the Financial Aid Office in G-19 Healy Hall connects 53 percent of new full-time GU Hoyas to monetary assistance averaging $43,071 apiece for $30.49 million total. Institutional funds include the Bernard McDonough Scholarship, William Miller Scholarship, Michael Mortara Scholarship, Jay Donald Melvin Scholarship, O'Brien Family Scholarship, Dona O'Bannon Scholarship, Jerome Powell Scholarship, Marjorie Kavanagh Rooney Scholarship, Charles Schneider Jr. Scholarship, Jana Thompson Scholarship, Father Gerard Yates Scholarship, and Elaine Sherwood Scholarship. Since 1977, the Osher Reentry Bachelor's Scholarship has awarded $5,000 to School of Continuing Studies transfers with minimum 3.0 GPAs. The Segal AmeriCorps Education Award deducts 15 percent for incoming post-grads who've volunteered for at least 12 months. Federal resources, such as the Pell Grant or Direct Unsubsidized Loan, requires FAFSA applications coded 001445. Washington DC natives also utilize the Tuition Assistance Grant, College Access Program, Mayor's Scholars Program, OSSE Scholars Program, and more.
Search through 10 accredited schools that confer 180+ diverse degrees placed 29th overall by The Wall Street Journal at the Georgetown University website.