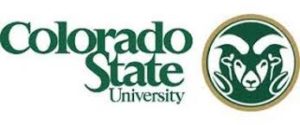 Degree Programs, Certificates and More at Colorado State University
Colorado State University appears in our ranking of the 30 Best Online Schools for Graduate Degrees.
Colorado State University has eight colleges that house 55 departments and schools. There are more than 250 available programs. Because the school was originally an agricultural college, there is an abundance of AG classes. CSU is also a research university and the sciences are certainly not neglected in the degree offerings. There are degrees in teaching, in social work, in psychology and counseling and the arts. Here is a broad overview of the programs offered at Colorado State University.
One unique aspect is the University-Wide Program that offers undergraduate and graduate degrees, minors, and certificates in programs that combine courses from several disciplines. Students decide on a focus area and then build degrees with courses from several schools that look at the focus area from different viewpoints. The degree programs are offered through several colleges and follow the basic requirements for that degree. Minors contain 21 credit-hours and follow a sequence of related courses of which a minimum of 12 must be in the upper-level. There are also certificates in the University-Wide program that contain specified courses but have no total required number of credits at the graduate level. While the certificates do not lead a degree, they can be applied to degree requirements.
The College of Agricultural Sciences contains degree programs in Agriculture Business, Horticulture, Animal Science, Environmental and Natural Resource Economics and others. The Bachelor of Science in Environmental and Natural Resource Economics is a program that differs from many other ecological degrees because it teaches graduates to use economic tools in managing natural resources and to look at the consequences of the choices people make on a local through a global scale. Students may complete the 120-credit-hour program concurrently with a major in Natural Resource Management or other specializations within the college. There are also four master's programs: Master of Agricultural Sciences, Master of Agricultural Sciences in Integrated Resource Management, Master of Agricultural Sciences in Teacher Development and Master of Extension Education.
The Business College houses bachelor's and graduate degrees, minors and 14 certificate programs. The Bachelor of Business Administration can be earned with concentrations in Accounting, Finance, Financial Planning, Human Resource Management, Information Systems, Marketing, Organization and Innovation Management, Real Estate or Supply Chain Management. The Minor in Business Administration can be earned in Entrepreneurship and Innovation or in Real Estate. The MBA programs feature an Early-Track Specialization that contains 52 credits. Other MBA program specializations include Global, Social and Sustainable Enterprise and Marketing and Data Analytics. There is a Master of Science in Business Administration, Computer Information Systems, Master of Science in Business Administration, Financial Risk Management, and many other degree offerings.
The Walter Scott, Jr. College of Engineering is home to eight undergraduate majors including Biomedical Engineering. This is an interdisciplinary program that contains courses from the College of Health and Human Sciences, College of Natural Sciences, College of Veterinary Medicine and Biomedical Science as well as the College of Engineering. The focus of the program is fighting disease, improving health and helping people cope with disabilities. The Master of Engineering with its specializations is offered on campus or online, and the college also offers a Ph.D. in Bioengineering.
The College of Health and Human Sciences houses the social work, early childhood education, and teaching programs as well as degree programs in many other areas including the Bachelor of Science in Hospitality Management. This is another of the university's interdisciplinary programs that includes courses in food service, lodging, event planning, nutrition, and business. The Hospitality program boasts partnerships with local, state and national organizations that offer a plethora of employment opportunities to graduating students.
There are many other degree programs in the Liberal Arts College, the Pre-Law program, the College of Natural Resources and Natural Sciences. Additionally, there are a number of degree programs and certificates offered online through CSU Online, and many programs offered in an accelerated eight-week format for working adults through CSU Global.
About Colorado State University
This school in Fort Collins is Colorado's land-grant university. Founded in 1870, it originally served as an agricultural college. Today, it is often affectionately called Colorado Aggie. There are nearly 25,000 undergraduates enrolled at CSU. The average class contains 20 to 49 students, and the student-to-faculty ratio is 16:1. Graduate degrees at CSU are offered in the schools of business, engineering, and education. The US News and World Report ranks this university as #14 of National Universities.
Colorado State University Accreditation Details
The North Central Association of Colleges and Schools, Higher Education Commission
The Academy of Nutrition and Dietetics Accrediting Council for Education in Nutrition and Dietetics
The American Association for Marriage and Family Therapy, Commission on Accreditation for Marriage and Family Therapy
The American Occupational Therapy Association Accrediting Council for Occupational Therapy Education
The American Psychological Association, Commission on Accreditation,
The American Veterinary Association, Council on Education
The Commission on English Language Program Accreditation
National Association of Schools of Music Commission on Accreditation,
National Council for Accreditation of Teacher Education
Teacher Education Accreditation Council, Accrediting Committee
Council for Accreditation of Counseling and Related Educational Programs
The Council on Social Work Education, Office of Social Work Accreditation
Accreditation Board for Engineering and Technology
And others.
Colorado State University Application Requirements
Students applying to the school as freshmen are encouraged to apply online through either the CSU application or the Common Application. There is a non-refundable application fee of $50. The application also requires that the student arranges for the submission of his official high school transcript and the official scores of the SAT or ACT test. Additionally, students must complete a personal statement and supply one teacher or counselor recommendation.
Graduate students apply to the degree program they desire. If the program approves the application, it is sent to the Graduate School for final approval. The application for graduates is online as well. There is a $60 application fee. Students must arrange for the submission of official transcripts from all undergraduate work as well as the official GRE or GMAT scores if that test is required by the department housing their degree. They must submit three letters of recommendation and any other materials required by the department.
Tuition and Financial Aid
The cost-of-attendance at CSU for undergraduates is estimated at $27,182 per year. That figure includes $11,982 in tuition, $11,740 for housing and meals, $1,200 for books and supplies and other costs. Students should also remember they will need personal funds as well.
The cost-of-attendance for graduate students is estimated at $30,914. This amount includes tuition, housing and meals, books and supplies and other expenses. Again, students should realize that in addition to these study-related costs, they will still need to plan for things like car payments, upkeep and insurance, and other personal expenses.
Students who need help paying for their education should complete the FAFSA (Free Application for Federal Student Aid ) form. After receiving their award notifications, they will have a better idea of the amount of financial aid they will need. Colorado has two primary grants, one to undergraduates and one for graduates as well as a number of privately-funded scholarships and grants administered by the state. CSU has merit-based scholarships, scholarships for students with leadership potential, funds for people studying in certain programs and participating in activities such as extracurricular music and athletics. A comprehensive list of scholarships and grants can be found on the school website.
In addition, service organizations, private individuals and even corporations fund scholarships. Students should search the school website as well as the Internet for these opportunities.
Loans are a good source of financing the remainder of a school debt after scholarships and grants are exhausted. Student loans feature less interest and allow students to defer payments until after graduation. Part-time jobs and work-study are often-overlooked resources that have the additional benefit of giving students work experience. University advisors can help students plan for meeting the debt incurred by earning their degrees at Colorado State University.