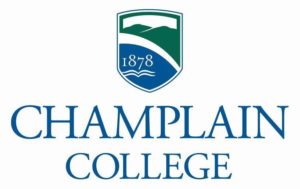 Programs at Champlain College
Champlain College appears in our ranking of the 20 Best Online Schools for Early Childhood Education.
Students may choose from more than 80 areas of study when they enroll at Champlain College and may enroll in classes at the Burlington campus or online. Popular classes at the college include business administration, computer forensics and counterterrorism, liberal arts and sciences, computer information systems, and graphic design.
There are three options for students interested in enrolling in classes at Champlain College when they aren't an official student at the institution. The college has a cross-registration agreement with Saint Michael's College, offers non-degree admission to students who aren't interested in pursuing a degree, and dual-enrollment opportunities for current high school students.
For high school students, the college offers applicants the opportunity to take a class during the summer after graduation or while the student is still enrolled in high school. The program, which is administered by the statewide Vermont State College system, allows high school students to take one class each semester without having to pay any tuition.
A selection of degrees available at Champlain College includes a Bachelor of Science in Applied Mathematics, a Bachelor of Science in Education, a Bachelor of Science in Psychology, and a Bachelor of Fine Arts in Filmmaking. Students may also pursue a Bachelor of Science in Criminal Justice, a Bachelor of Arts in Law, a Bachelor of Social Work, or a Bachelor of Fine Arts in Visual Communication Design.
Champlain College offers more than 67 percent of its classes with fewer than 20 students, and its student-faculty ratio is a low 12:1. The freshman retention rate is 80 percent. Academic divisions within the college include the Robert P. Stiller School of Business, the Division of Education & Human Studies, the Division of Information Technology & Science, and the Division of Communication & Creative Media. The college's online degrees are offered by a division dedicated to online study.
Students who are interested in enrolling in online programs may choose from areas of study that include business, cybersecurity, healthcare, and information technology. Degrees are available at the associate, bachelor's, and master's degree levels. The college also offers undergraduate and graduate certificates online. Associate degrees are available in accounting business management, software development, and web design & development.
For bachelor's degrees online, students may choose from accounting, business management, computer & information systems, economic crime investigation, healthcare administration, and software development, as well as a handful of other options. Available graduate degrees include business administration, digital forensic science, executive leadership, healthcare administration, human relations & organization development, and information security.
About Champlain College
Champlain College is located in Burlington, Vermont, and has offered classes since its establishment in 1878. The college enrolls around 2,200 students at its campus in Burlington each year, as well as through its online class system, which is known as Champlain College Online. The official colors of the college are blue and green, and the official motto is "Let us dare."
When it was founded, the college was known as the Burlington Business School and was a place where young men could study various business topics. The college would become coeducational in 1884, and a new owner would change its name to Queen City Business College. It would undergo a third name change when it was acquired by a new owner and renamed Burlington Business College.
Champlain College Accreditation Details
Regional accreditation for Champlain College has been granted by the New England Commission of Higher Education. Regional accreditation is an approval for the entire college and indicates that the institution meets various assessment criteria for overall quality. In addition to institutional accreditation, the college has also earned an additional approval for its radiologic technology program from the Joint Review Committee on Education in Radiologic Technology.
Champlain College Application Requirements
Students who apply to Champlain College will fill out an application online, and the college doesn't require its applicants to fill out an application fee like most institutions. The college requests that students only fill out one application. After submitting the application, students will send their academic records that include high school transcripts, letters of recommendation, and test scores. One recommendation should come from a school counselor, and another should come from a teacher.
Students only need to send evidence of transfer credits if they exist, and test scores are optional unless applicants want the college to consider those scores for the purposes of admission. Some students may also need to submit a portfolio if they're interested in applying to the game design, creative media, game art & animation, filmmaking, or graphic design & digital media programs. Students should contact their program administrators for information on extra application materials.
Tuition and Financial Aid
Standard annual costs for tuition at Champlain College come to $41,729 for the fall and spring semesters. Enrollees will also pay a $100 activity fee, as well as $9,856 for a room and $5,910 for a meal plan. The total expected cost for the year for students who enroll full-time and live on campus is $57,594. All students must also pay for a health plan through the college if they don't already have one, and students are also assessed a one-time $100 technology fee.
Other costs that students may need to pay include $1,000 for books, $998 for personal expenses, $1,348 for transportation, and $72 for loan fees. Students who enroll in study abroad programs at Champlain College may need to budget additional expenses related to their travel and overseas experience. When the student's cost-of-attendance is calculated for financial aid, students may elect to have a one-time expense for a computer added to the total.
Students at Champlain College may receive financial aid in the form of loans, grants, and scholarships with funds being offered on the student's demonstrated financial need and past academic performance. Students must apply for financial aid every year they take classes. More than 90 percent of students who attend Champlain College receive scholarship funds, which is a type of financial aid that students aren't required to repay after they graduate.
The college has more than $37 million available for scholarships each year, and all students who complete their Free Application for Federal Student Aid (FAFSA) will be considered for need-based scholarships. There are also merit-based scholarships available from Champlain College, and students aren't required to submit any additional applications for consideration of those funds.