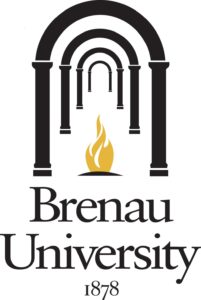 Brenau University Degrees and Programs
Brenau University appears in our ranking of the 20 Best Online Schools for Early Childhood Education.
Brenau University offers a large number of programs with a strong emphasis on liberal arts. Students can earn undergraduate or graduate degrees through the Coed Undergraduate School, the Women's College, the Sidney O. Smith Jr. Graduate School or the university's online campus.
Undergraduate degrees are available in business and communication, education, fine art and humanities and health science.
The school offers 11 undergraduate degrees in business-related fields like mass communication, marketing and operations management. The university has a much heavier focus on business certificates and graduate degrees. Certificates in areas such as health care management, cyber security and business analytics are available online, but some of these have not yet been accredited.
Fine arts and humanities offerings at Brenau University range from history and political science to theatre design and technology. Students can pursue degrees in dance, musical theatre, studio art, acting and music.
The online campus includes associate degrees, endorsements, certificates, bachelor, master's and doctoral degrees. Students can earn an Ed.D. in elementary education, leadership in higher education or middle grades education. Other doctoral programs at Brenau University include nursing, physical therapy and occupational therapy.
Brenau University offers dual enrollment, which allows high school juniors and seniors to earn undergraduate credits while completing high school requirements. Students who are accepted into this program are not charged tuition for the credits they earn.
About Brenau University
Brenau University is a private school based out of Gainesville, Georgia. The school was originally founded in 1878 as a college strictly for females. Though it was not a precisely religious school, it was called the Georgia Baptist Female Seminary. In 1900, the school was sold, re-named and re-branded. Men were allowed to study at the new Brenau College, though the school's Women's College arguably remains the heart of the school.
Brenau began offering online course work in 2002. The online campus offers undergraduate and graduate degrees as well as professional certificates. In 2010, Brenau opened the Sidney O. Smith Jr. Graduate School, which provides accelerated access to master's level and doctoral programs.
One of the most renowned features of the university is the strong focus on fine art. The school galleries display pieces from Paul Cezanne, Pierre-Auguste Renior, Jasper John, Roy Liechtenstein and Andy Warhol, among others. The university is also home to a large number of artifacts collected by primatologist Dian Fossey.
The university is ranked #38 in Regional Universities South by U.S. News and World Report. It is ranked #22 in Best Colleges for Veterans and #37 in Best Value Schools.
Brenau University Accreditation Details
Brenau University is accredited by the Southern Association of Colleges and Schools Commission on Colleges. This accreditation allows Brenau to offer undergraduate and graduate programs through its physical campus and online. The school holds other accreditations for specific programs from the following councils and commissions:
Accreditation Council for Occupational Therapy Education
Collegiate Commission for Nursing Education
Council for Interior Design Accreditation
Georgia Professional Standards Commission for Teacher Education Programs
National Council for Accreditation of Teacher Education
Accreditation Council for Business Schools and Programs
Masters in Psychology and Counseling Accreditation Council
Brenau University Application Requirements
First-year students can use the common application to apply to Brenau. Conversely, they can choose to complete Brenau University's online application. Students must also have a high school transcript sent directly from the high school to the admissions office by mail or email.
There is no minimum SAT or ACT test score required for entry into Brenau. Students do not have to take college entrance exams, but they can include them on their applications to increase their chances of acceptance. Students must have a high school GPA of at least 2.0 with the exception of nursing, pre-physician assistant and education, which have GPA requirements of 2.5, 2.8 and 2.75, respectively.
Prospective students who wish to apply to the nursing program must complete an additional nursing application.
Brenau University offers a rolling application process, which means there is no deadline and students can apply at any time. Some scholarships and financial aid may have deadlines that should be considered when applying.
Tuition and Financial Aid
The cost of attending Brenau University is dependent upon the school and whether the student is a resident or commuter.
The cost of attending the Women's College is a flat-rate of $14,685 per semester. This base rate covers the cost of full-time tuition, which is 12 to 18 hours each semester. Students who are enrolled part-time or wish to take overloads are charged $979 per credit hour.
Students who attend the Women's College and choose to live on campus are charged a flat-rate of $21,791.85 per semester. This fee includes tuition, room and board, and certain university-related fees. Other fees may be accrued, including those for books and other materials fees.
The Undergraduate College charges the same fees as the Women's College unless students are seeking an associate degree. This degree is charged at a rate of $564 per credit hour. Students who attend classes at one of the extended sites pay $651 per credit hour regardless of the number of hours enrolled.
Graduate classes are charged at $713 per credit hour for business, education, and health sciences degrees. Occupational therapy students pay $12,000 per semester for weekend studies or $15,375 for studying at the traditional day campus. Doctorate degrees are charged at a rate of $900 to $1,128 per hour, depending on the degree being pursued.
Brenau offers a discount program for active-duty military members. These individuals are charged $250 per hour. Spouses and children of active military can receive a 10 percent discount on all courses.
Brenau University has a limited number of institutional scholarships. Those that are available are only offered to existing and legacy students. The university does allow students to apply outside scholarships to the cost of college tuition. Students are also encouraged to apply for need-based grants through the Free Application for Federal Student Aid. The university's financial aid office can help students learn more about loans.
Interested in learning more? Visit the Brenau University website.