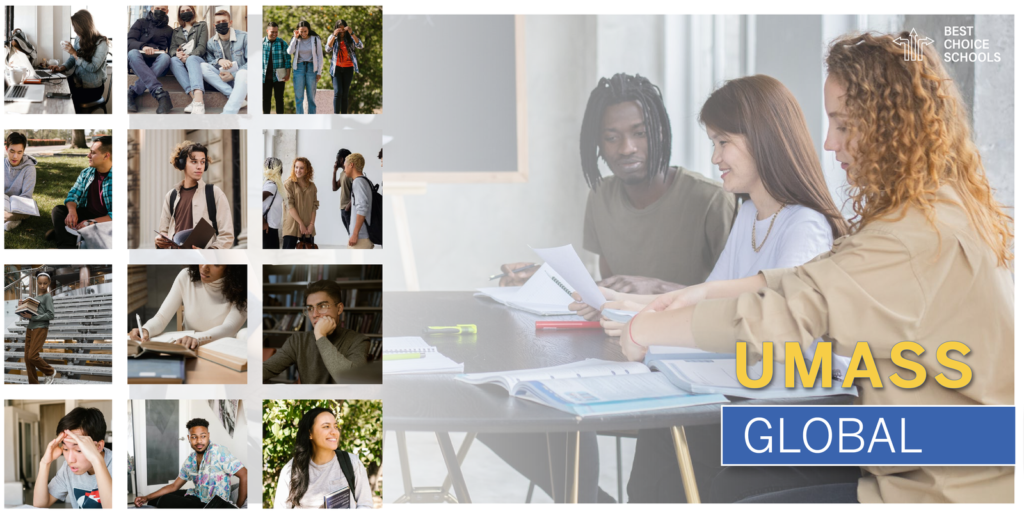 Founded in 1958 by Chapman University, UMass Global was originally named Chapman University College. In 2009, it became its own regionally accredited institution and was renamed Brandman University. But in 2021, Brandman formed a partnership with the University of Massachusetts, and the school became University of Massachusetts Global, an affiliate within the UMass system.

Several things set UMass Global apart from UMass as a whole. For starters, the school focuses on non-traditional students who are usually already in the workforce. In fact, the average age of a UMass Global student is 36, although the student body ranges in age from 18 to 65 years old.
Additionally, all of the school's faculty members are not only instructors; they are experts in their respective fields. Thus, students have the advantage of working with instructors who have years of practical experience.
The mission of UMass Global is "to provide students with an accessible, inclusive and transformative education based on excellence and flexibility, creating lasting value and relevance for a dynamic world."
See also: Top 10 Online Universities You Can Start Anytime
UMass Global Accreditation
The University of Massachusetts Global is regionally accredited by the WSCUC Senior College and University Commission (WSCUC), an accrediting body focused on excellence, equity, and engagement. Recognized by the U.S. Department of Education, all UMass programs are integrated into the accreditation.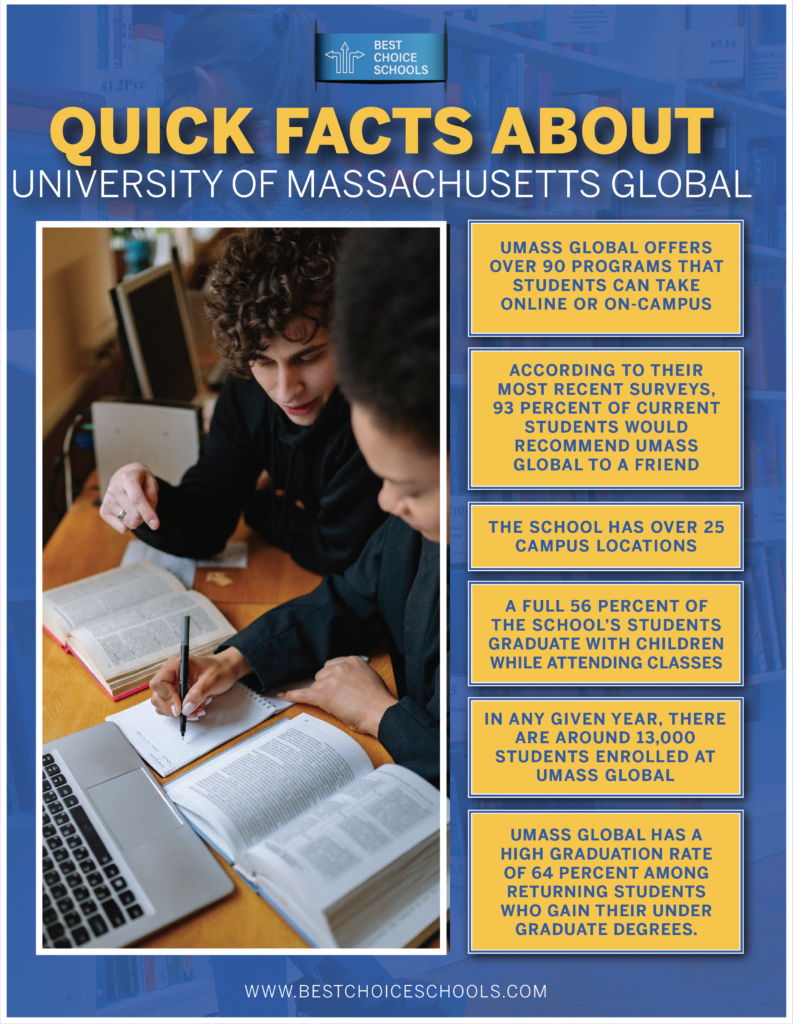 Additionally, the school holds several professional accreditations, including:
Quick Facts About University of Massachusetts Global
About the Educational Experience at UMass Global
There are five schools at UMass Global:
Students can select from a vast range of online or on-campus programs through each of these five schools. Degrees and programs include:
Associate Degrees

Bachelor's Degrees

Master's Degrees

Doctoral Degrees

Credentials and Authorizations

Certificates and Courses
Programs also include online, self-paced learning through MyPath, which we will cover in more detail shortly.
Employer Aligned Curriculum
The advisory board members at UMass Global are composed of national industry authorities and community leaders who give input that helps provide direction for the curriculum of the school's many programs.
As previously mentioned, all of the faculty members are scholar-practitioners who currently work in the fields in which they teach, with most holding doctoral degrees. They are committed to developing (and teaching) a curriculum that will provide students with real-world, practical, and relevant skills based on current industry trends. The idea is to give you information and knowledge you can apply to your career right now.
For example, UMass Global courses are designed from the bottom up. They call it their Backwards Course Design. When creating a course, they first try to understand what skills students need to be effective in the workforce. Then, they build the curriculum for each program based around teaching these competencies.
The focus at this school is not on high-school graduates. Instead, they concentrate their attention on adult learners. That means that they incorporate various employment and industry trends into the ideas used to create their academic programs. And it's never static. They are constantly exploring ways to provide students with improved services, resources, and curriculum.
What Kind of Support Is Available at UMass Global?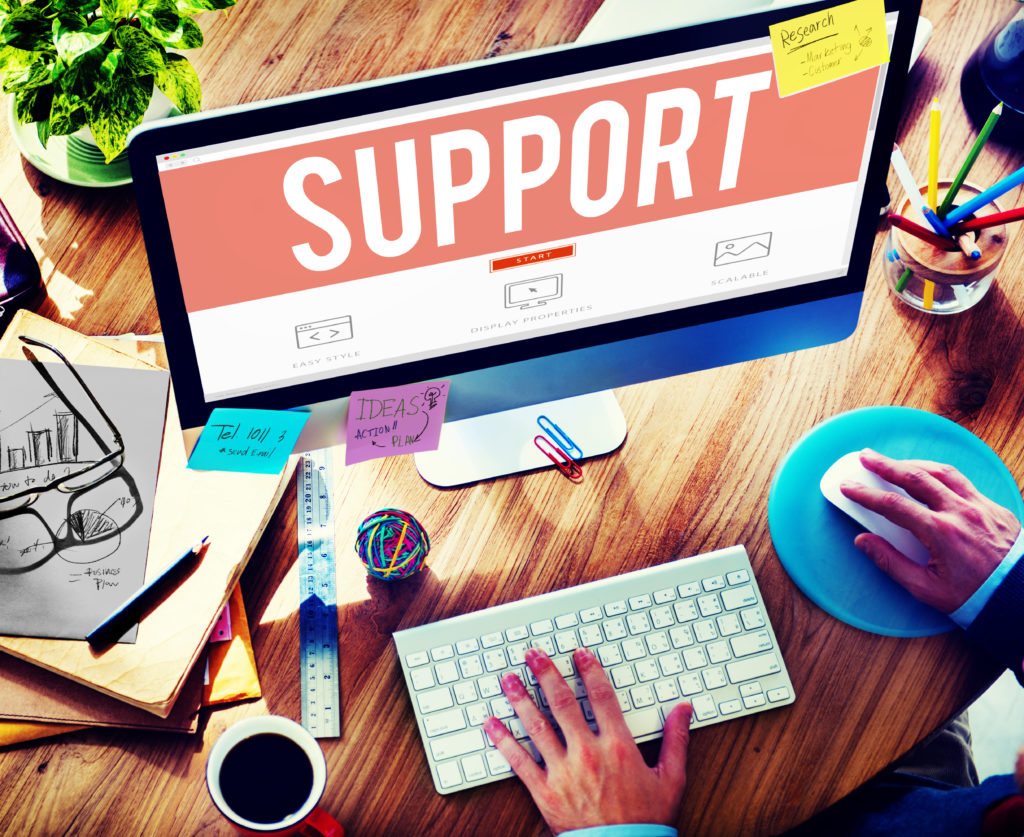 Of all the online schools we've evaluated, UMass Global has some of the strongest support systems of any college. It is designed to help all students, from those who are just thinking about going to college to alumni who are considering a career move. Here are just a few of the ways UMass Global supports its students:
Enrollment Coaching
For those just beginning their academic journey, the support begins with an enrollment coach to assist you in getting started. Even before you fill out an application, you can take advantage of this service, as the enrollment coach will be there to guide you, answer questions, and address any concerns you may have.
Academic Advising
Once accepted as a student, you will be paired with a dedicated academic advisor who will be with you through the entirety of your degree program. They will help you develop a personalized plan that fits your interests and career goals and will mentor you whenever you need help to stay on track for completing your studies.
Office of Accessible Education
The Office of Accessible Education is another support service that ensures students are provided with services and reasonable accommodations in compliance with the Americans with Disabilities Act of 1990 and 2008 and section 504 of the Federal Rehabilitation Act of 1973. So, if you are a student with disabilities, you can be assured that UMass Global will provide you with the most comprehensive and effective accommodation plan possible. Plus, they can act as a liaison between students, faculty, and other college staff to make sure accommodations are being implemented appropriately.
Technology Support
The Center for Instructional Innovation is the school's technical support department, and they are the ones that can help you access Zoom, LiveText, Blackboard, and Google Apps. The Center for Instructional Innovation can be an invaluable service for online students, especially if you're not particularly tech-savvy. They also have workshops to give students additional writing, math, and Multimedia & Design Support.
Financial Aid Support Services
The Financial Aid department at UMass Global is dedicated to ensuring every student can get an affordable education. This department serves as a one-stop-shop to get that done. Whether you plan to enroll in an undergraduate or graduate program on campus or online, they can guide you through the process from beginning to end and help you find the financial resources available to you.
Career and Alumni Support
UMass Global has a comprehensive suite of resources to help current or former students reach their career goals. The office offers interview assistance, career coaching, mentoring, networking events, and professional industry information. There is a wealth of resources available through this department, all free for current students and alumni to take advantage of.
Cost of Attendance at UMass Global
While tuition rates can vary slightly according to the program you select and a few other factors, they are still pretty straightforward. Online and hybrid programs incur the same costs, which are as follows: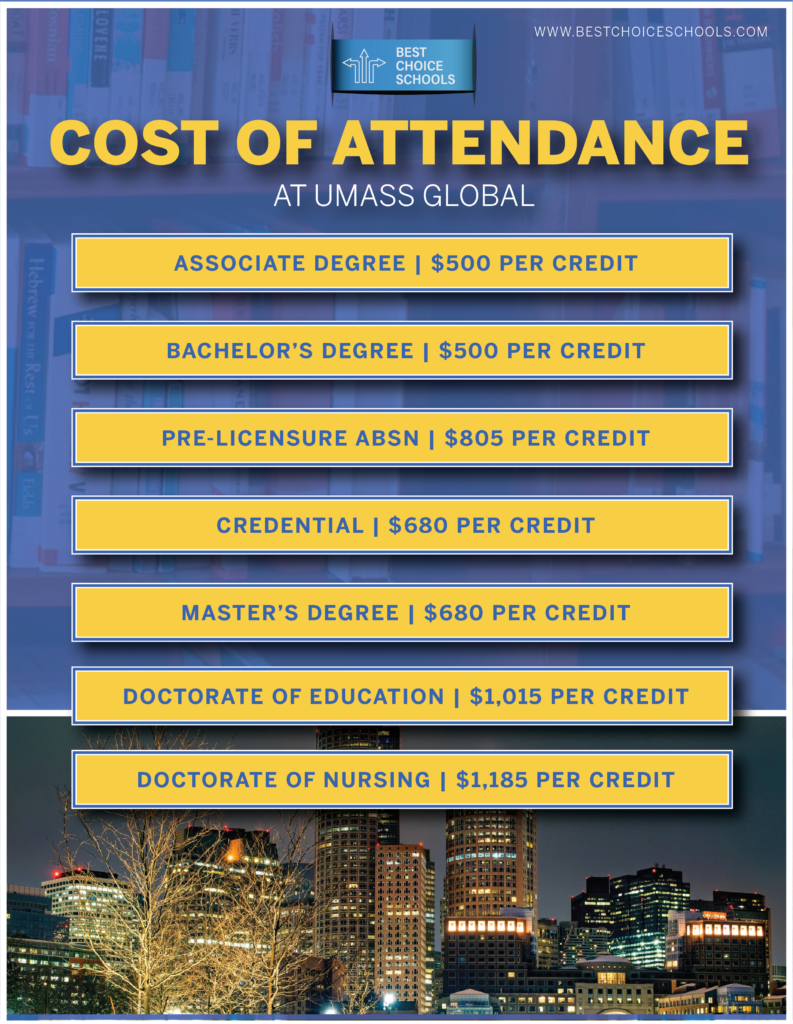 Online Learning at UMass Global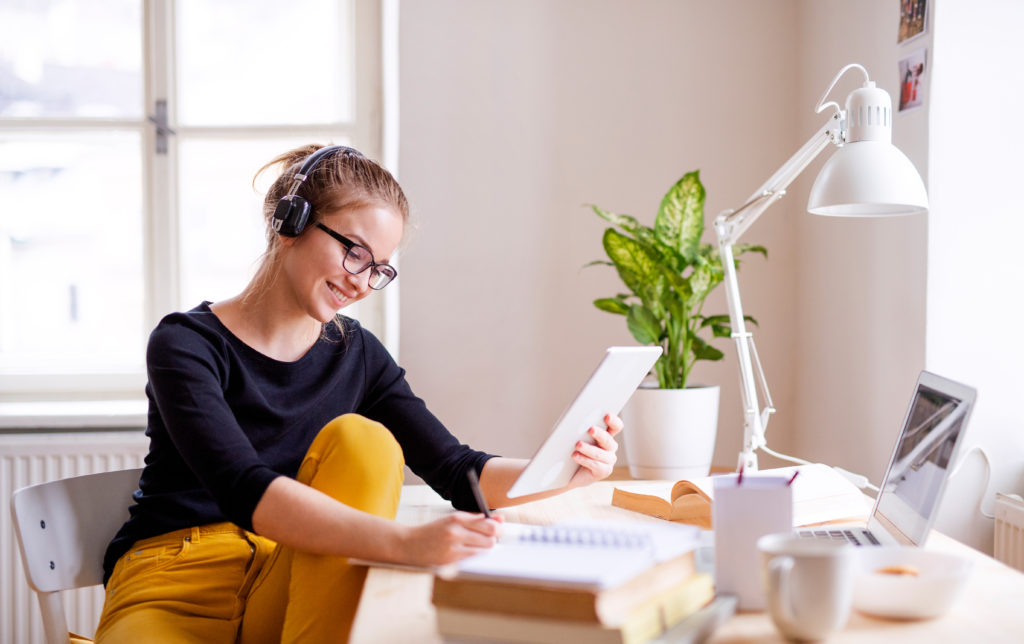 UMass Global has over 25 physical campuses/locations throughout Washington and California. Students who live near one of these locations can opt to complete their studies on campus, online, or through a hybrid program that encompasses a bit of both.
Even better, most of the classes have year-round enrollment so that you can start your degree program anytime it is convenient for you. Let's take a look at the three ways students can participate in online learning at UMass Global.
Self-Paced Programs
The self-paced programs are part of the school's MyPath option, a program that lets students earn their online bachelor's or master's degrees even if they have a full-time job. With this program, students control their own schedule and decide when they will be able to complete the work. While this provides a slower pathway to obtaining your degree, slow and steady wins the race. Another benefit of the MyPath option is that you can receive credit for prior work experience, potentially accelerating your time to completion.
Hybrid Programs
Hybrid programs at UMass Global are designed for students who want to experience a combination of on-campus and online learning. With over 25 campus locations in Washington and California, students who live nearby may wish to take advantage of the school's hybrid programs. It's the best of both worlds, allowing you all the flexibility of an online program but still giving you a taste of the rich campus experience.
Online Programs
The online programs at UMass global are designed to give working adults who need flexibility in their academic schedules room for other responsibilities like work and family. Therefore, most of the courses at UMass Global's online program are asynchronous, which means students can complete them any time of the day or night, and there are no set class times.
What Are Some of the Most Popular Online Degree Programs at UMass Global?
At UMass Global, students can choose from over 47 bachelor's degree programs, over 40 master's degrees, and several doctoral and associate degrees. We'll complete this article by discussing a few of the most popular bachelor's and master's degree programs at the school.
UMass Global's BA in criminal justice is available at 24 of the school's campuses as a hybrid program or a fully online program. The problem explores real-world scenarios, drawing insight from the experienced faculty. Students will gain problem-solving and collaboration skills as they examine:
Contemporary issues in criminal justice

Courts

Forensics

Evidence

Corrections

Immigration and national security

Gangs and gang behavior

Local, state, and federal law enforcement
Related: 20 Best Online Schools for Criminology
Students who want to pursue careers working with children up to age eight will be interested in this BA in Early Childhood Education. It is offered as a hybrid program on 19 campuses or entirely online. The program includes fieldwork and two practicums that allow students to demonstrate (under guided supervision) their teaching competencies. Some of the coursework includes:
Child, Family, and Community

Principles and Practices of Teaching Young Children

Observation and Assessment in Early Childhood Education

Health, Safety, and Nutrition

Introduction to Curriculum for Young Children

Teaching in a Diverse Society
This trending degree choice is offered as a hybrid program on 24 campuses or fully online. Students in the undergraduate Organizational Leadership degree program at UMass Global will obtain the tools and knowledge necessary to become innovative leaders. The curriculum is comprehensive and includes a variety of topics, including:
Marketing

Human Resources

Economics

Organizational Behavior

Ethics

Team Building

Finance

Accounting

Leadership Best Practices
The MBA degree at UMass Global is offered as a hybrid program at 16 campuses, or students can complete it entirely online. It's designed to prepare students to manage and lead business organizations, with the first half of the program teaching technical skills and the second half focusing on leadership skills. Students are required to customize their MBA by selecting from one of the following areas of emphasis:
Accounting

E-business Strategic Management

Entrepreneurship

Finance

Health Administration

Human Resources

International Business Marketing

Business Intelligence

Data Analytics

Public Administration

Organizational Leadership
You may also like: 20 Best Online Schools for Business Administration
The master's in social work program at UMass Global is only offered as a hybrid program at one school or can be taken entirely online. Students will follow an expertly-created curriculum designed to equip them with the skills and knowledge they need to succeed at a career in the rewarding field of social work. Designed for working professionals, it can be completed in just one year. Some of the courses you will take include:
Family Violence

Social Work and Human Sexuality

Social Work Law and Ethics

Advanced Generalist Practice I and II

Child Welfare

Prevention and Intervention in Child Abuse and Neglect