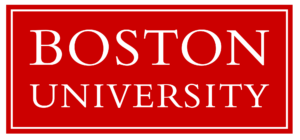 Boston University Degree Programs Available
Boston University appears in our ranking of the 30 Best Online Schools for Graduate Degrees.
Boston University offers more than 300 programs of study in 20 different schools and colleges. Students can choose from a wide range of degree programs that are available both online and on-campus. Some of the most popular degree programs offered at Boston University include Business Administration, Communication, Economics, and International Relations.
The Bachelor of Science in Business Administration offered at Boston University offers students a holistic approach to the business world. The program not only includes business courses but also from across the University, providing students an understanding of how disciplines are intertwined. All students must complete at least one functional concentration in one of the following areas:
Accounting
Entrepreneurship
Finance
General Management
International Management
Law
Management Information Systems
Marketing
Operations & Technology Management
Organizational Behavior
Strategy & Innovation
The Master of Business Administration at Boston University provides students with an ethical perspective as well as core business knowledge. Those in the program develop strong leadership skills with a management-systems perspective as well as an innovative approach to looking at business. Students may focus their studies in Energy & Environmental Sustainability, Entrepreneurship, Finance, Leadership & Organizational Transformation, Marketing, Operations & Technology Management as well as Strategy & Innovation.
Boston College offers a Bachelor of Science in Economics is for those who wish to enter government, legal or business as well as for those who wish to teach. The program provides sound training in economic theory while also providing students with the skills necessary to analyze problems through quantitative methods. The program is only available in an on-campus format although some courses may be available online. Courses include macroeconomics, microeconomics, and empirical economics along with general studies courses in humanities, philosophy, computer science, history, English and math.
The Master of Art in International Affairs allows students to gain a deeper understanding of international relations. The program focuses on national governments as well as IGOs and NGOs. Graduates have a comprehensive perspective on international issues and an understanding of how these issues are researched, discussed and acted upon. Students may concentrate their studies in:
Diplomacy
Global Economic Affairs
International Communication
Religion & International Affairs
Security Studies
Online graduate degrees are offered in Applied Business Analytics, Art Education, Computer Information Systems, Criminal Justice, Curriculum & Teaching, Enterprise Risk Management, Financial Management, Global Marketing Management, Health Communication, Higher Education Administration, Insurance Management, Music Education, Project Management, Software Development, Social Work, Supply Chain Management, and Taxation Law.
About Boston University
In 1839, the Newbury Biblical Institute was established by the Methodist Episcopal Conference. The school was housed in the Newbury Seminary in Newbury, Vermont. In 1847, the Newbury Biblical Institute transferred to Concord, New Hampshire, where it was named the Methodist General Biblical Institute. In 1867, the school moved again, this time to Boston. It was then renamed the Boston Theological School. In 1867, the school began allowing women to enroll and it became Boston University in 1869. The first school under the new university charter was the School of Theology.
Today, there are more than 34,000 students attending Boston University. U.S. News & World Report ranked Boston University 42nd among national universities.
Boston University Accreditation Details
Boston University is accredited by the New England Commission of Higher Education. Accreditation indicates that the school meets or exceeds criteria that demonstrate the highest level of quality available at an institute of higher learning. It also indicates that the school undergoes periodic review to confirm that they continue to meet those criteria and that they agree to address any areas that are identified as needing improvement. In addition, programs throughout the school are accredited by the following industry-specific organizations:
ABET
Academy of Nutrition and Dietetics, Accreditation Council for Education in Nutrition and Dietetics
Accreditation Commission for Midwifery Education
American Bar Association
American Dental Association, Commission on Dental Accreditation
American Occupational Therapy Association, Accreditation Council for Occupational Therapy Education
American Psychological Association, Commission on Accreditation
American Speech-Language-Hearing Association, Council on Academic Accreditation in Audiology and Speech-Language Pathology
Association to Advance Collegiate Schools of Business
Commission on Accrediting of the Association of Theological Schools
Commission on English Language Program Accreditation
Commission on Healthcare Management Education
Council on Education for Public Health
Council on Social Work Education, Office of Social Work Accreditation
Liaison Committee on Medical Education
National Association of Schools of Music, Commission on Accreditation
Boston University Application Requirements
Students who are applying from high school need to apply as first-year applicants at Boston University. Applicants must fill out the Common Application which requires submission of an official high school transcript along with senior year grades. A counselor recommendation and school report, as well as teacher evaluation, must also be submitted with the application. Applicants must also submit official SAT or ACT scores. Some programs may have additional application requirements such as portfolios or auditions.
Applicants who have earned college credit after high school graduation must also submit the Common Application. They must submit transcripts from all colleges or universities attended as well as a transfer college report. A high school transcript with proof of graduation is also required along with an academic recommendation.
Graduate admissions requirements vary depending on the program. Students are encouraged to speak to a graduate admissions counselor before applying.
Boston University Tuition and Financial Aid
Full-time undergraduate tuition at Boston University is $52,816 per year. Graduate tuition varies depending on the program the student decides to enter. Financial aid is available and 88 percent of students who apply for aid receive assistance. Over $240 million in financial aid is awarded annually to undergraduate students and the average award package is $50,667. For any student who receives aid, Boston University guarantees they will receive at least that amount of assistance for all their years of undergraduate study.
Financial aid is awarded in the form of grants, scholarships, loans, and work-study programs. In order to qualify for any assistance, students must complete the Free Application for Federal Student Aid (FAFSA) and it must be renewed annually.
Boston University offers programs that are designed to help traditional and non-traditional students advance in a current career or move into a new career. Boston University offers a wide range of online programs as well as over 300 programs offered on-campus and in a hybrid format.