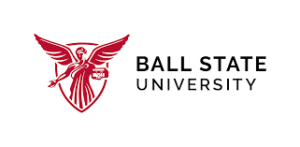 Ball State University Degree Options
Ball State University appears in our ranking of the 30 Best Online Schools for Graduate Degrees.
Ball State University offers more than 100 majors and programs for undergrads today. Some of these programs allow students to major in two different subjects such as its early childhood and early childhood special education and teaching program. It prepares students for working with younger children and those with special needs and includes some field experiences. The university also offers an elementary education and special education for future teachers who want to work in elementary schools. Some of the other popular programs for undergrads include those in fashion merchandising, journalism, meteorology, visual communication, and urban planning and development.
U.S. News and World Report ranks Ball State University's graduate school as one of the country's best. Graduate students can enroll in more than 30 programs and more in more than 50 fields. It offers a Master of Fine Arts with a focus in animation, sculpture, metals, ceramics or glass. Students can also study multimedia art. In each program, they will both submit their work and receive feedback from their peers on their work. They also have the chance to show their pieces in special shows and galleries on the campus. Ball State University offers one of the state's top architecture graduate programs, which will prepare students for creating plans and presenting their work to their clients. Some of the online graduate degrees offered at BSU are Educational Psychology, Elementary Education, Applied Behavior Analysis, or Business Administration (MBA).
Graduate students can also earn a certificate from the university in an area such as adult education or business essentials. These shorter programs allow students to take courses that they can transfer into a degree program or earn a full certificate that can help them find jobs or get a license in specific fields. There are also certificates available in gifted and talented education, historic preservation, real estate development and professional selling and sales management. Ball State University now has a large virtual campus that offers degree and certificate programs for undergrads and graduate students in dozens of fields that include business and education.
About Ball State University
Named after the Ball Brothers who created the Ball Corporation and the jar of the same name, Ball State University is a public university in Muncie, Indiana. Often called BSU or Ball State, it initially opened as a state normal school. The Eastern Indiana Normal School opened in Muncie in the early 1890s and had a few years of success as it trained teachers. Financial problems led to this campus shutting down multiple times and changing its name before the Ball Brothers stepped in and donated the funds necessary to reopen the campus as the Indiana State Normal School – Eastern Division. It later became the Ball Teachers College and then the Ball State Teachers College. Ball State University's name now pays homage to both the state and those brothers.
BSU has a large campus in Muncie that includes both historic structures and modern amenities. The university's education programs still rank as some of the best and most popular in the university. Its campus has more than 600 WiFi hotspots that students can use while in class and while relaxing between classes. Both its social justice and historic preservation program rank among the best in the country. Ball State itself ranks as one of the nation's top schools, according to both Washington Monthly and U.S. News and World Report. It has an enrollment of more than 22,000, which makes the university one of the largest in Indiana.
Ball State University Accreditation Details
The Academy of Nutrition and Dietetics (AND) granted Ball State accreditation for its dietetics program. The university also has accreditation for its programs in nursing, psychology, English language, speech and language, art, design, music and dance programs as well as a few others. The North Central Association of Colleges and Schools (NCACS) gave BSU the regional accreditation that allows it to accept government funds and grant degrees too.
Ball State University Application Requirements
Ball State stopped requiring official test scores in August of 2018 because it believes that students are more than just a single score. It still allows students to submit their scores because it may help them get a spot in the freshman class, especially if they have lower grades. Undergrads must have a high school diploma and a transcript that shows they took the Indiana Core 40. This consists of 40 core classes that students should take in high school, including three units of math and science classes and four units of English courses. Their transcripts should also list their grade point averages because BSU looks for those with a GPA of 3.5 or higher. There is an application that undergrads must complete too.
The BSU Graduate School only admits students who have a bachelor's degree from a university with regional accreditation and a cumulative grade point average of 2.75 or higher. It also accepts those with a GPA of 3.0 or higher in the last two years of classes they took. Students will apply to the Graduate School and then submit a separate application to the program of their choosing. That program may ask for a resume, letters of recommendation, writing samples or other information.
Tuition and Financial Aid
More than 80% of Ball State students receive some type of financial aid, and the university offers more than 500 scholarships for undergrads alone. Prior to applying for that aid, students may want to look at their overall costs. Undergrads pay $7,890 per year as an Indiana resident and $24,462 per year as a nonresident. They also pay a little more than $10,000 a year for room and board. Graduate students pay $9,200 a year as an in-state resident and $21,100 a year as a nonresident. All students will also pay some university fees every year that are not part of this tuition rate.
As soon as Ball State receives a student's FAFSA, it will create a financial aid package that may include both government aid and some institutional aid. Institutional aid includes the wide range of scholarships available from the university, including some full-ride programs. Students will receive need scholarships after completing the FAFSA, but they need to apply for merit and other scholarships. They can also get loans and grants to pay their costs. Ball State University recommends that students look at the degree programs they want to study to find out about department funding and scholarship programs.