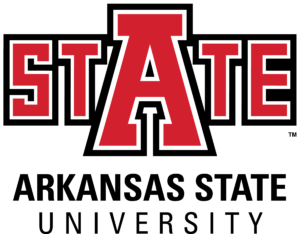 Program Options at Arkansas State University
Arkansas State University appears in our ranking of the 20 Best Online Schools for Early Childhood Education.
There are six academic colleges at Arkansas State University that offer programs in more than 140 fields at the undergraduate and graduate level. Divisions include the College of Agriculture, the College of Education & Behavioral Science, and the Neil Griffin College of Business. Other colleges include the College of Engineering & Computer Science and the College of Nursing & Health Professions.
Some of the most sought-after majors at Arkansas State University include those in nursing, biology, early childhood education, and kinesiology. More than 53 percent of the university's classes have fewer than 20 students, and the overall student-faculty ratio is 16:1. The university enjoys a freshman retention rate of 75 percent.
Current high school students may want to explore the concurrent enrollment program at Arkansas State University if they feel they are ready to enroll in college-level classes. The concurrent enrollment program at Arkansas State University has been accredited by the National Alliance of Concurrent Enrollment Partnerships.
The concurrent enrollment program allows high school students to satisfy high school and college degree requirements simultaneously. Students must apply to participate in the dual enrollment program at Arkansas State University and must also have their parent fill out a parental consent form.
Arkansas State University offers traditional university programs in popular areas like engineering, biology, and accounting, as well as specialized programs in areas like African American studies, children's advocacy studies, emergency medical technology, and corporate media. Programs run the gamut from undergraduate certificates to doctoral programs.
Students also have access to many online programs at Arkansas State University with options that range from undergraduate certificates and bachelor's degrees to graduate certificates and master's degrees. Some of the topics available for study online include business administration, teaching, strategic communication, nursing, and engineering management.
Some programs are offered at multiple levels, so students may be able to pursue one program online and then continue into the next level without ever stepping foot on campus. For example, students may earn a Bachelor of Science in Strategic Communications and then earn a Master of Science in Strategic Communications. Students can also enroll in the Bachelor of Science in Nursing program and then continue into the Doctor of Nursing Practice program online.
About Arkansas State University
Arkansas State University is the second-largest institution of higher learning in the State of Arkansas and has been in operation since 1909 when it was known as the First District Agricultural School. The university started out as a regional training school for agricultural jobs, but it would eventually expand its offerings to higher education and four-year degrees. The university's official colors are white, black, and scarlet, and the students have two mascots named Howl and Scarlet.
The university's main campus in Jonesboro covers 1,376 acres, and the university also recently opened a campus in Queretaro, Mexico. The first graduate degree programs were offered at the university in 1955, and the first doctoral programs were offered in the early 1990s. Today, almost 22,000 students attend the university, which also has more than 1,400 faculty members.
Arkansas State University Accreditation Details
Arkansas State University is accredited by the Higher Learning Commission of the North Central Association of Colleges and Schools. The university first attained this status in 1928 and has remained accredited since that time. The university maintains its accreditation through a process known as the Standard Pathway and also receives a comprehensive review every ten years to maintain its accreditation. Accreditation from the Higher Learning Commission applies to the entire institution, but the university also offers some programs accredited by other entities.
Approvals come from the Commission on Accreditation of Allied Health Education Programs, the Council for Accreditation of Counseling and Related Educational Fields, and the Council on Rehabilitation Education. Other approvals come from the National Council for Accreditation of Teacher Education and the Council for the Accreditation of Teacher Preparation.
Arkansas State University Application Requirements
Students can gain unconditional admission to Arkansas State University if they meet certain qualifications. Requirements include having a high school GPA of at least 2.75 on a 4.00 scale or having a score of 600 on the GED. Students must also obtain a minimum score of 21 on the ACT, a score of 990 on the SAT, or a combined 2016 SAT score of 1060 on the mathematics and reading portions of the test.
Students may also achieve conditional admission with a GPA of 2.30 on a 4.00 scale and a GED score between 460 and 599. Conditional admission also requires an ACT score of 19 or above or an SAT score of 910 to 989. Students can also gain conditional admission with a 2016 SAT score of 980 on the math and reading portion.
Tuition and Financial Aid
Tuition and fees at Arkansas State University are $4,450 for undergraduate students who are residents of Arkansas and are based on a credit load of 15 hours. The cost for out-of-state students is $7,930, with the amount also being based on a credit load of 15 hours. Meanwhile, graduate students will pay $4,273 if they're from Arkansas and enrolled in a full-time course load of 12 credits. Non-residents in graduate school will pay $7,597 for their tuition and fees.
Students will also pay a variety of fees associated with their programs of choice, as well as pay for housing and meals during their enrollment. For example, students taking classes from the College of Business, College of Nursing & Health Professions, College of Engineering & Computer Science, and College of Sciences & Mathematics will pay a college support assessment fee of $24.00 per credit hour.
Students must submit a FAFSA form each year they want to qualify for student aid like scholarships, grants, and loans. When submitting a form, students will need to submit income tax information and may need to undergo an additional verification process. In addition to loans, grants, and scholarships, students may also receive assistance through student employment and tuition waivers.
The university offers financial assistance to 90 percent of its students and indicates that it has several institutional and privately-funded scholarships available for students who are new applicants, current students, and transfer students. Scholarships at Arkansas State University include the A-State Scholar, the A-State Achievement Scholarship, the A-State Heritage Scholarship, and the A-State Merit Scholarship.