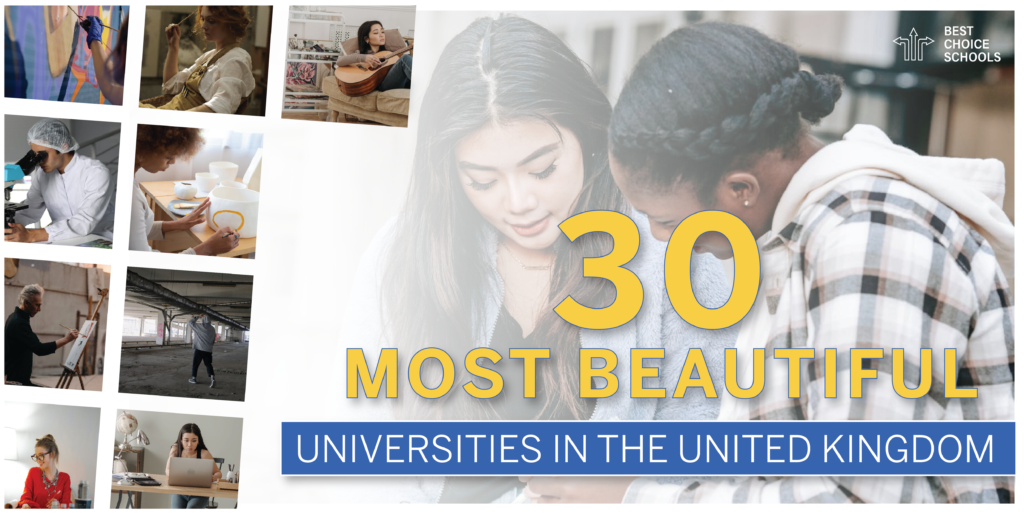 By BCS Staff
January 2021
There are few places in the world more beautiful than the United Kingdom — England, Scotland, Wales, and Northern Ireland — and that sentiment extends to its universities. Traditionally built of brick or stone, with ample green spaces and rivers for punting, British universities ooze charm, sophistication, and history. That's why Best Choice Schools went on the hunt for the 30 most beautiful universities in all of the U.K. Whether you're a Britain-based student heading to uni, or an American looking to study abroad in a place that feels quintessentially British, we've studied and ranked the very best.
Ranking Methodology
To come up with our ranking of the 30 most beautiful universities in the United Kingdom, we began by studying other lists on the topic done by highly respected, U.K.-based publications. Upon tallying the number of universities mentioned more than once, we found we had a long list of nearly 60 beautiful university campuses. To narrow down our list to a ranked 30, we studied each and every campus, considering such factors as: natural elements like gardens and greens; architectural achievements both modern and historic; and notable features such as historical/cultural significance, unique landscaping, and general location.   
1. Queen's University Belfast
Belfast, Northern Ireland
Topping our list of the most beautiful universities is Queen's University Belfast, the U.K.'s ninth oldest university. Though Queen's 250 buildings are actually spread over a number of public streets in Belfast, its most beautiful centerpiece is undoubtedly the Lanyon Building. The Tudor Gothic-style Lanyon Building was designed by the architect Sir Charles Lanyon, and completed in 1849. A walk around Queen's is sure to impress with its myriad period statues, ornately turreted buildings, and marble floors.
2. Royal Holloway, University of London

Egham, Surrey, England
Royal Holloway is officially a part of the University of London, though it's actually located a 40-minute train ride away in Egham, Surrey. The university dates all the way back to 1886, when it was opened by Queen Victoria as an all-women's university. Spanning 135 acres, Royal Holloway boasts beautiful parklands complete with 150 types of trees, 200 species of shrubs, and countless flowering plants. However, the real centerpiece is the Founder's Building (pictured). Inspired by the Chateau de Chambord in France's Loire Valley, the Founder's Building houses a gallery of Victorian-era paintings, a chapel, lecture theaters, an arts library, a kitchen and dining hall, and student accommodation. If it looks familiar, it may be because Royal Holloway has been used as a filming location for Downton Abbey, Avengers: Age of Ultron, and others.
3. University of Glasgow
Glasgow, Scotland
University of Glasgow is the English-speaking world's fourth oldest university — but it's third most beautiful, according to our list. Once the very center of the Enlightenment in Scotland, Glasgow University consists of several campuses with buildings ranging from Gothic Revival to Brutalist in style. The university's finest building is arguably the Gilbert Scott building. Founded in 1886 and the school's main building, Gilbert Scott is the second largest example of Gothic Revival architecture in all of Britain (the first being the Palace of Westminster). While the whole building is awe inspiring, its crown jewels are undoubtedly the fluted columns of its cloisters. Today, the columns form the entrance to Scotland's oldest museum.
4. University of Cambridge
Cambridge, England
Founded in 1209, University of Cambridge has the distinction of being the second oldest university in the English-speaking world. Interestingly, it was founded by a group of scholars who had experienced a run-in with the citizens of Oxford. Today, Cambridge consists of 31 colleges — each with its own impressive history and architecture — spread throughout the city. Cambridge architecture ranges from Tudor, to medieval, to contemporary. One especially impressive building is King's College and its Chapel. Both are Gothic English architecture. The Chapel boasts a large medieval stained glass window dating to the 16th century. Other highlights of Cambridge include eight museums, a botanical garden, and the River Cam, the latter of which often hosts student boaters punting beneath the university's many impressive walking bridges.
5. University of Oxford
Oxford, Oxfordshire, England
Established in 1096, University of Oxford is the oldest university in the English-speaking world. Oxford consists of 38 colleges located throughout the city, but no main campus. Its buildings come in a variety of architectural styles, with many that could be described as "iconic." One such iconic building is Magdalen College, which is easily recognized by its 44-meter-high bell tower — the tallest building in Oxford city. The circular Radcliffe Camera is another Oxford gem, as is the Bodleian, a neoclassical library which contains every book ever printed in the UK and Ireland.
6. University of Edinburgh
Edinburgh, Scotland
University of Edinburgh welcomed its first students in 1583. Since then, the city of Edinburgh has literally grown up around it. Some of the university's buildings remain in the old historic area, complete with winding staircases and narrow cobbled streets. Other, more modern university buildings exist in the New Town with its myriad shops and lots of activity. The highlight of the collective campus is arguably the Georgian Old College. An important Edinburgh landmark, the building took nearly 100 years to build. It houses the School of Law and a contemporary art gallery, and boasts some of the best views to be found in all of Edinburgh.
7. Durham University
Durham, England
Established as a university in 1832, Durham University has been described as "one of the great experiences of Europe to the eyes of those who appreciate architecture." Perhaps it's garnered such a glowing reputation because of the 11th-century castle-turned-student accommodation. Or maybe it's the picturesque waterfront setting of the university's more rural campus. Whatever it is, there is no doubt the UNESCO-designed Durham University ranks as one of the most beautiful in Britain.
8. University of Keele
Newcastle-under-Lyme, Staffordshire, England
Situated in the north of England and overlooking the town of Newcastle-under-Lyme is University of Keele. Established by Royal Charter in 1962, Keele is characterized by its 625 acres of parkland, lakes, a stream, and hidden walkways. An arboretum plays host to giant maple, redwood, and pagoda trees, plus the U.K.'s largest collection of cherry trees. The rural university's most beautiful building is undoubtedly Keele Hall (pictured). The 19th century turreted brick building was once home to a family of successful merchants. Located nearby (but a world away in terms of architecture) is Keele's chapel, which Business Insider described as "a modern take on the U.K.'s traditional ivy-clad university buildings."
9. University of Greenwich
London, England
University of Greenwich is comprised of three historic campuses: two in the Royal Borough of Greenwich in London, and the other in Medway, Kent. The oldest and most impressive of Greenwich's campuses is the Old Royal Naval College. A UNESCO World Heritage Site, the Old Royal Naval College sits along the River Thames. Its grand Baroque buildings were designed by Sir Christopher Wren. Not surprisingly, the college is a popular filming location for movies and television. It has appeared in Four Weddings and a Funeral, The Queen, and Les Miserables, among others.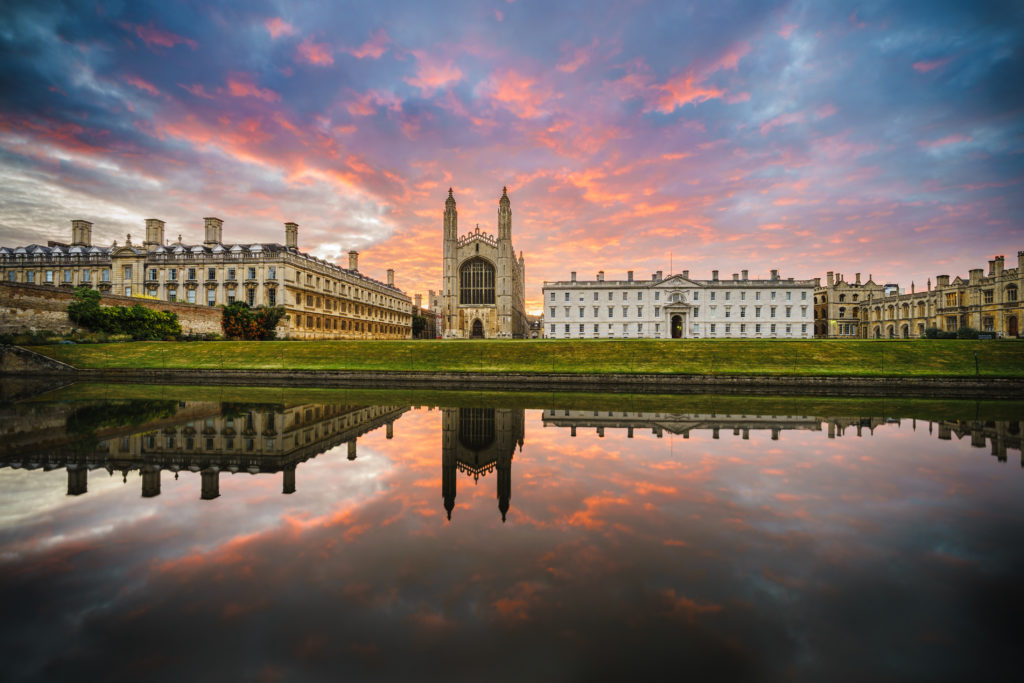 10. University of Bristol
Bristol, England
It's true that not all of University of Bristol is what many might think of as beautiful. Founded in 1876, the university boasts quite a few more modern buildings. But it's also home to some incredible heritage architecture designed by architects like Charles Hansom, George Oatley, Charles Dyer, and Ralph Brentall. One such landmark building is the Bristol Law Library, which has remarkable Gothic touches. The university also boasts a beautiful botanical garden, lush parks, and open spaces popular for walking and talking.
11. Cardiff University
Cardiff, Wales
Known in Welsh as Prifysgol Caerdydd, Cardiff University has buildings located throughout central Cardiff. Those overlooking beautiful Cathays Park include the university's main building, the Bute Building, and the Glamorgan Building. All three were designed in unique architectural styles by different architects and designers. Of the three, the most beautiful is arguably the Bute Building (pictured), with its six neoclassical, Roman columns.
12. University of St Andrews
St Andrews, Fife, Scotland
University of St Andrews (or Oilthigh Chill Rimhinn, in Scottish Gaelic) was founded sometime around 1410. That makes it Scotland's oldest university, and the U.K.'s third oldest. A few of St Andrew's buildings — like St. Salvator's Chapel, St. Mary's College, and St. Leonard's College Chapel — all date back to the 15th century, and yet are still used to this day. Besides the ancient and impressive buildings, the university also boasts stunningly idyllic grounds and views of the dramatic Scottish coastline. Fun fact: It was as a student at St Andrews that one Prince William fell in love with a classmate named Kate.
13. University of Aberdeen
Aberdeen, Scotland
Founded in 1495, University of Aberdeen is one of the four great ancient universities of Scotland. It is also one of Britain's most beautiful universities. Much of Aberdeen's 15th-century architecture still exists, and remains used by today's students. Two of the university's most recognized buildings are Marishcal College and King's College (pictured), both located in Old Aberdeen.
14. Aberystwyth University
Aberystwyth, Wales
The second Welsh school to make our top 15 is Aberystwyth University. The university hugs the rocky Welsh coast, thereby offering fantastic views of the water. Much of the campus, including the main Old University Building, has been designed to look like a medieval castle. However, the university was actually founded and constructed in 1872. Interestingly, Aberystwyth University was home to the very first official department for international politics in the world, which it founded in 1919 following World War I.
15. University of Nottingham
Nottingham, England
University of Nottingham is widely recognized as one of the greenest university campuses in the U.K. In fact, the university's main campus, University Park, sits on a whopping 330 acres. The park-like campus is perfectly maintained, and includes walking paths, water features, greens, and gardens filled with plants from all over the world. Thirteen of Nottingham's buildings are listed for their architectural or historic interest. Perhaps most notable is the Trent Building, a beautiful classical-style building characterized by its towering clock tower.
16. King's College London
London, England
Established in 1829 by King George IV, King's College London is one of two founding colleges of the University of London. It consists of five campuses located throughout the city of London. These include three campuses located along the Thames River, and one in Denmark Hill. But arguably, King's College London's most beautiful campus is the historic Strand Campus in central London. Strand Campus, which houses the arts and sciences faculties, overlooks the Thames with a white-stone building designed in 1831 by Sir Robert Smirke. In 1864, a redesign by Sir Gilbert Scott included the creation of the stunning King's College London Chapel, now a Grade I-listed building.
17. University of Sheffield
Sheffield, South Yorkshire, England
As one of the U.K.'s original red brick universities (civic universities built in England's industrial cities and constructed mainly of, you guessed it, brick), University of Sheffield definitely needed to be included on our list of Britain's most beautiful. Sheffield consists of two campuses and a handful of other sights, the most impressive of which is St. George's Campus. The campus is named for the 19th-century, Perpendicular-stlye church that is now used as a lecture theatre. Another of Sheffield's impressive St. George Campus buildings is the Sir Frederick Mappin Building. The grade II-listed building was completed in 1885. Its notable features include a demonstrative frontage, decorative plaster ceilings, and large stained-glass windows.
18. University of Birmingham
Edgbaston, Birmingham, England
Situated fewer than five kilometers from the city of Birmingham, the University of Birmingham is more than 100 years old. The university's 250-acre campus is shaped in a sort of circle, with its centerpiece being the "Old Joe" clock tower. Another original structure is the Aston Webb building, noted for its red brick exterior and domed top. Like Aston Webb, much of the campus's buildings are done in the Victorian style.
19. University of Newcastle upon Tyne
Newcastle upon Tyne, Tyne and Wear, England
Most often referred to as Newcastle University, University of Newcastle upon Tyne is very often considered to be one of the most beautiful campuses in all of Britain. The campus spans 50 acres, and includes a number of architecturally impressive historic buildings. The Armstrong building, for example, is the university's oldest, and contains the grand King's Hall which is used for all ceremonial purposes. The Bruce Building has a unique architecture that alludes to its history as a former brewery, while Devonshire Building has won a number of architectural awards for both style and environmental friendliness.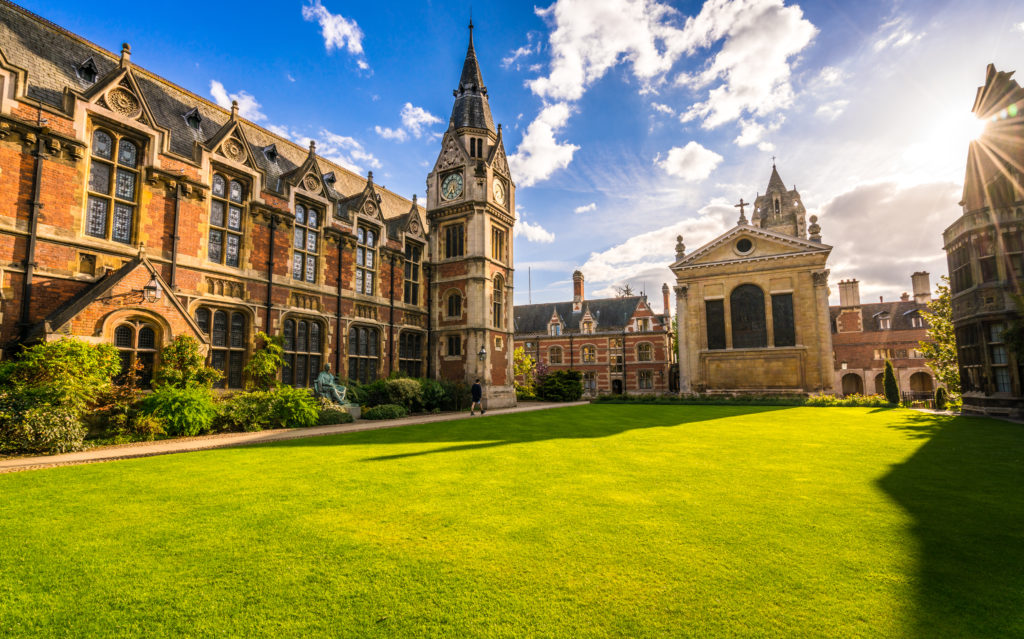 20. York St John University
York, North Yorkshire, England
The North Yorkshire-based public university that is York St John boasts a large, 11-acre campus. Situated near the York city walks, the urban university consists of a number of delightfully beautiful buildings in a variety of architectural styles. For example, the Fountains Learning Centre, with its wavy glass ceiling, feels as modern as the computers and media equipment it houses. Similarly, De Grey Court has won architectural awards for its uniquely modern style. On the other hand, York St John includes a number of quintessentially British buildings too, like those surrounding the Quad West entrance.
21. University of Leeds
Leeds, West Yorkshire, England
Established in the 1870s, University of Leeds boasts a number of buildings both historic and modern. The former category includes the Grade II-listed Greek Revival Parkinson Building, the Great Hall in its Brutalist style, and the Leeds University Business School, once a 19th-century grammar school. The more modern buildings are mostly Brutalist in style, and include the EC Stoner Building, the Computer Science Building, and the Edward Boyle library. Interestingly, Leeds' campus is also home to a series of public art installations meant to promote thought and learning.
22. Ravensbourne University London
New Greenwich, London, England
Ravensbourne University in London in known for its ultra-modern buildings. This makes sense once one considers that Ravensbourne is a digital media and design university which offers courses in fashion, architecture, animation, and similar. Its campus surrounds The O2 in the entertainment district of the Greenwich Peninsula. The university's buildings have won a variety of architectural awards, including the British Construction Industry Award in 2011.
23. University of Liverpool
Liverpool, England
University of Liverpool is another of Britain's "red-brick universities." Situated only five minutes' walk from Liverpool City Centre, atop Brownlow Hill, the university spans 100 acres. A whopping 192 university buildings housing 92 lecture theaters make up the school. Architectural highlights range from historic (like the Chatham Building) to the modern (like the Active Learning Lab, with its light-up exterior). Abercromby Square is another impressive feature, and acts as a nice green space for socializing and studying.
24. University of Manchester
Manchester, England
Like so many other beautiful universities on this list, University of Manchester is one of England's "red-brick universities" — that is, it was built during the civic university movement of the late 1800s. Interestingly, Manchester isn't the typical university campus. Rather, its campus buildings are mixed in with the major roads and non-university buildings of the city of Manchester. Highlights of the university include the sleek and modern Manchester Institute of Biotechnology, the Gothic buildings surrounding the Old Quadrangle, and the Grade II-listed Stephen Joseph Studio, which was once a German Protestant church.
25. Loughborough University
Loughborough, Leicestershire, England
Affectionately referred to as just "Lough," Loughborough University is located in a small-is market town in Leicestershire. The university's main campus spans 438 acres. In fact, it was once the estate of Burleigh Hall. Highlights of the beautiful university include the walled Garden of Remembrance, the ornate Bastard Gates, and the Hazlerigg-Rutland Hall courtyard with its fountains.
26. University of Warwick
Coventry, England
University of Warwick is situated in beautiful Coventry, right between the West Midlands and Warwickshire. The 710-acre main campus consists of buildings original to the university's establishment in the 1960s. These mid-century masterpieces include the Warwick Arts Centre and the Helen Martin Arts Studio. Various outdoor art installations, such as the White Koan are also located throughout the campus.
27. University of Huddersfield
Huddersfield, West Yorkshire, England
Established in 1992, University of Huddersfield is one of the youngest universities on our list, and its campus buildings reflect this. Huddersfield's main campus is Queensgate, and it's split into halves by the Huddersfield Narrow Canal. Standout structures include the Buckley Innovation Centre, the Creative Arts Building, and the Oastler Building for Law — all of which have received multi-million-pound renovations in recent years.
28. University of Bath
Bath, Somerset, England
The city of Bath is arguably one of the most beautiful in all of Great Britain, and its university is no exception. A pedestrian thoroughfare known as the Parade makes its way right through the center of campus, and along the Parade are classroom buildings and student residences. Most of Bath's structures are functional modernist styles. Standouts include the library and the School of Architecture and Building Engineering.
29. University of East Anglia
Norwich, Norfolk, England
University of East Anglia is a public research uni in Norwich. Situated just west of the city center, the 320-acre campus boasts a number of unique, modern structures. This includes the Sainsbury Centre for Visual Arts, a large white curb-like building designed by Lord Norman Foster. Indeed, the Sainsbury Centre is such an architectural triumph that it was chosen to appear as the Avengers headquarters in Avengers: Age of Ultron.
30. University of Exeter
Exeter, Devon, England
A public research university located in Devon, University of Exeter boasts an appealing mix of historic brick and stone buildings, and more modern structures with large glass features. The Piazza, large and modern outdoor space, makes for a nice study and socializing spot. A sculpture walk made up of outdoor art installations meanders its way through the campus. Oh, and did we mention the university is located right near the beach? No wonder The Independent describes University of Exeter's campus as "sublime."
Related Rankings:
30 Most Beautiful Universities in Canada
50 Most Beautiful Urban College Campuses
50 Most Impressive Law School Buildings in the World