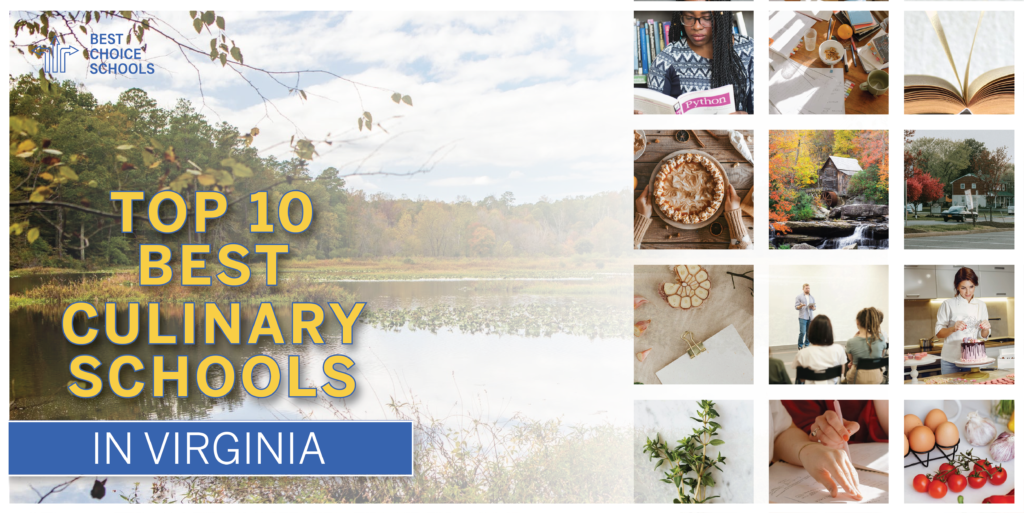 By BCS Staff
January 2021
The restaurant and foodservice industry in Virginia brings in over $16.3 billion dollars in sales revenue each year. According to the U.S. Bureau of Labor Statistics, the food services industry in Virginia employs over 11% of the workforce, with an increase of 44,400 jobs expected by 2026. As those jobs become available, restaurant and foodservice owners will seek out employees who are highly trained and educated. Earning a culinary degree or diploma is step in the right direction to make sure you stand out and get noticed.
Methodology
To come up with the 10 best culinary schools in Virginia, we began by compiling a list of any and all two- and four-year colleges, culinary institutes, and technical schools offering degrees and certificates in the culinary arts. For the sake of consistency, we included only those culinary programs which are accredited by a legitimate culinary-related accrediting body. We then used an holistic approach to narrow down our list to just those culinary programs offering hands-on training, professional faculty and staff members, and a variety of degrees, diplomas, and certifications.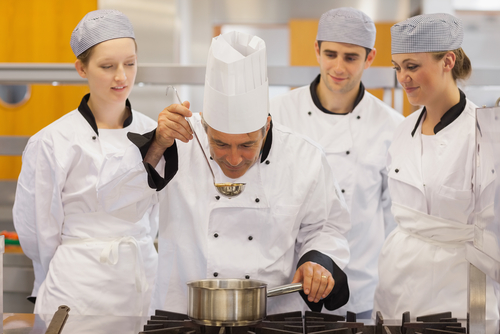 Blacksburg
For those who are interested in the culinary arts as part of the hospitality industry, there is the Hospitality and Tourism Management program at Virginia Tech. Specialized courses are available in a slew of concentration-like topics. These include catering and restaurant management, and event management, to name but two. In addition to completing courses, students gain valuable experience through hands-on learning, knowledgeable instructors, and internships. Both bachelor's and master degrees are offered.
Lynchburg
Central Virginia Community College offers a Certificate in Culinary Arts. The one-year program is designed for students who wish to gain basic culinary and culinary management skills. Students follow a set course of classes, which include Principles of Baking; Sanitation and Safety; and Meat, Seafood, and Poultry Preparation. By the time one graduates the program, he or she will be ready for an entry-level position in the culinary industry.
Charlottesville
The Associate of Applied Science in Culinary Arts program at Piedmont Virginia Community College is a 67-credit hour program featuring an internship. Students have the opportunity to learn both professional and culinary skills through this top culinary program. Courses cover areas such as garde manger, food purchasing, cost control, and food preparation. Graduates are prepared to work as bakers, caterers, chefs, or cooks in a variety of venues including restaurants, hotels, night clubs, and cruise ships.
Roanoke
The Al Pollard Culinary Arts Program at Virginia Western Community College offers an Associate of Applied Science in Culinary Arts, and Career Studies Certificates in either Culinary Arts or Baking and Pastry. The Certificate program is a 27-credit hour program providing a solid foundation in the field of food production, culinary arts, and hospitality. The AAS program can be completed in two years, and prepares students to become bakers, pantry cooks, pastry cooks, sous chefs, and vegetable cooks. Students have access to the Claude Moore Culinary Kitchen, a state-of-the-art kitchen lab where students are able to learn their trade in a hands-on environment.
Norfolk
Tidewater Community College offers an Associate of Applied Science in Culinary Arts. The degree is accredited by the American Culinary Federation. Students learn both the business and art of preparing and serving a variety of different foods. Students complete a 240 clock hour internship opportunity in a commercial kitchen, working alongside professional chefs. Tidewater has a commercial kitchen lab so students have the opportunity to learn their trade with the latest in kitchen technology. Students can complete the program in just four semesters, making this program an affordable choice for students who need to save money.
#5. J. Sargeant Reynolds Community College
Richmond
The Associate of Applied Science degree program in Culinary Arts from Reynolds Community College features expert faculty and is accredited by the American Culinary Federation. Students can choose to complete the program on a two year schedule or on a fast track schedule, provided they meet the qualifications to do so. Students have the opportunity to learn their trade in a state-of-the-art kitchen environment with the latest in modern kitchen equipment. Students who already possess a degree or certificate in culinary arts can apply for the Pastry Arts Career Studies Certificate. This certificate program is a three semester program for those with experience who want to focus on baking, pastry production, and confections.
#4. Dabney S. Lancaster Community College
Clifton Forge
Dabney S. Lancaster Community College offers both an Associate of Applied Science degree in Culinary Arts, and a Certificate in Culinary Arts. Students learn from experienced faculty in a state-of-the-art teaching kitchen. General education courses are delivered using a variety of methods including lecture, web based, independent study, and video. Students learn a variety of skills such as menu planning, budgeting, safety, sanitation, and food preparation. Coursework covers topics such as garde manger, soup, stock and sauce preparation, American Regional cuisine, and International Cuisine. An internship experience is included as part of the AAS Degree program.
Virginia Beach
The Art Institute of Virginia Beach is a top culinary school featuring exciting internship opportunities, a state-of-the-art learning environment, and industry-experienced professional instructors. Students have the opportunity to learn outside the confines of a classroom or lab. For example, students may have the chance to prepare dishes on network television, compete in international food competitions, and train internationally to become the best in the business. The Art Institute offers a variety of degree and diploma programs to allow students multiple entry points onto the career ladder. Degrees include an Associate of Arts in Culinary Arts and a Bachelor of Science in Culinary Arts Management. Diplomas in Culinary Arts and Baking and Pastry are also offered. Regardless of their choice of program, students have the opportunity to study world cuisines, allowing them to diversify their talents and make them more marketable in the industry.
Falls Church
Stratford University is accredited by the American Culinary Federation, and provides students with a global perspective on the culinary arts. Students can complete courses during the day, evening, or on the weekends to accommodate busy schedules. The state-of-the-art kitchen facility allows for individualized instruction when needed and fosters an environment for collaborative learning. Stratford offers Associate of Applied Science degrees in Advanced Culinary Arts and Baking and Pastry, plus a Diploma in Advanced Culinary Arts Professional. The curriculum for both degree and diploma programs teaches students how to problem solve, manage a budget, control cost, and prepare a variety of food dishes. With five different program start times throughout the year, and classes that can be completed in just five or 10 weeks, students can be out in the workforce in less time than many other schools.
Norfolk
The Culinary Institute of Virginia is a top accredited culinary school with a variety of programs in both Baking and Pastry Arts and Culinary Arts. Students can earn their diploma in just 40 weeks, or their AAS degree in 15 months. Baking and Pastry students learn advanced techniques such as multi-layer cake design; and sugar, chocolate, and pastillage showpieces. Culinary students learn about meat selection, International Cuisine, a la carte, and culinary nutrition, among other things. Externship opportunities are required as part of both programs, allowing students to gain professional experience before they enter the workforce.
If you enjoyed this article, be sure to check out these related articles:
Top 10 Best Culinary Schools in South Carolina
Top 20 Best Culinary Schools on the East Coast
50 Best Culinary Schools in the U.S.
Save