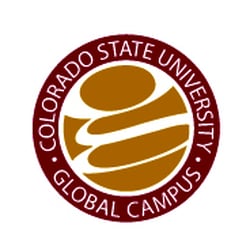 Degree Options at Colorado State University Global
Colorado State University Global appears in our ranking of the Top 10 Online Universities You Can Start Anytime.
Colorado State University Global offers all of its programs online, so students can enroll and complete their bachelor's and master's degrees from anywhere that has an internet connection. The university indicates that students who earn a college degree may increase their earnings, experience lower unemployment rates, and earn more frequent promotions at their places of employment.
For undergraduate degrees, the university offers degrees in accounting, business management, computer science, criminal justice, and healthcare administration & management. Additional bachelor's degrees are available in human resource management, human services, information technology, interdisciplinary professional studies, and management information systems & business analytics. Students can also earn degrees in marketing, organizational leadership, and project management.
Students who want to earn a master's degree also have many degree options available. Degrees are offered in criminal justice, data analytics, finance, healthcare administration, and human resource management. Students can also earn degrees in information technology management, international management, management, and organizational leadership. Additional degrees are offered in professional accounting, project management, and teaching & learning.
Students who enroll at Colorado State University Global may also choose to pursue a certificate. Working professionals may benefit from an augmentation of their skills in a specific field, and current degree-seekers may also find it beneficial to expand their knowledge. Some of the graduate certificates available are on the topics of business analytics, cybersecurity, digital instructional architecture, and human resource management. Students may also want to earn principal licensure, study project management, or enroll in a certificate in strategic digital information marketing.
Some of the benefits of earning a degree or certificate from Colorado State University Global is the opportunity to add a specialization to the degree, create a personalized learning path, or use alternative credit options toward the degree. Some of the alternative credit options include self-study assessments, credit by exam, alternative credit projects, and prior learning assessments.
Some of the university's many specializations include applied social sciences, communication, cybersecurity, digital marketing, and healthcare management. Additional specializations are available in web application development, visualization and cloud computing, and organizational leadership.
Students may want to consider personalized learning paths that include stackable credentials, which is a method of adding to one's educational knowledge through educational blocks of classes. Students speak with an enrollment counselor to create personalized programs that combine credits already earned alongside credits available from the university.
About Colorado State University Global
Colorado State University Global is part of the state university system in Colorado and is the online campus of the system. The school was founded in 2007, and its headquarters is in Greenwood Village, which is just outside of Denver. The university focuses on providing education to working adults and professional students who are unable to participate in traditional, on-campus classes.
There are 19,000 students attending Colorado State University Global, and all students attend classes online. The mascot for the university is Goldie the Golden Eagle, and the school's motto is "If you have the courage, we have the college." The school was initially funded through a loan of $12 million from the CSU Board of Governors. The loan has since been paid back. The online university was transformed into a separate and complete institution in 2008, shortly after its founding.
Colorado State University Global Accreditation Details
Colorado State University Global is regionally accredited by the Higher Learning Commission (HLC). The HLC is an independent group that reviews the university to ensure it meets the standards of collegiate-level education. Colorado State University Global is joined in its regional accreditation by other schools in Colorado and nearby states like Arkansas, Iowa, Kansas, and Missouri.
Regional accreditation is based on several criteria that include integrity, teaching, learning, resources, and institutional effectiveness. There are also many programs that are programmatically accredited at the university. Accreditation for programs at the university comes from the Accreditation Council for Business Schools and Programs and the Project Management Institute Global Accreditation Center for Project Management Education Programs.
Colorado State University Global Application Requirements
Students who want to apply to CSU Global can do so as first-year students if they have no previous college experience or have fewer than 12 transferable college credits. Students may also apply as first-year students if they can demonstrate having two years of previous work experience. Students with less than two years of work experience can apply under provisional status.
After submitting the official application for admission, students must also submit an official high school transcript or GED transcript. Students who are under the age of 20 must also take the SAT or ACT and have those scores sent to the university. Some students may need to complete prerequisite courses under the university's First Year Sequence. Those classes include Composition, Critical Reasoning, and Navigating Organizations and Change.
Tuition and Financial Aid
Students who enroll in undergraduate classes at Colorado State University Global will pay $350 per undergraduate credit, which means each class is $1,050. Graduate students will pay $500 per credit, which equals $1,500 per class. Overall, annual tuition for undergraduate students is $8,400, and tuition for graduate students is $9,000. There are no extra fees for tuition.
Colorado State University Global has a liberal transfer credit policy and allows students to transfer up to 90 credits for degree completion. Students who transfer 90 credits can expect to pay $10,500 for their degree. Students who transfer with 30 credits can expect to pay $31,500 for their degree. Meanwhile, graduate students will pay approximately $18,000 for a 36-credit program or $19,500 for a 39-credit program.
Students can qualify for financial aid when they attend Colorado State University Global from private, government, institutional, or state sources. Students must submit the Free Application for Federal Student Aid to qualify for financial aid through the federal government. The university may request additional documentation to verify a student's income or other reported information.
Students who are offered a financial aid award will need to review their award letter and officially accept or reject the award. Students who accept and receive federal student loans will need to complete loan counseling, as well as sign a master promissory note. Students may want to apply for scholarships from Colorado State University Global like the Degree Completion Scholarship or the Career Enhancement Scholarship.